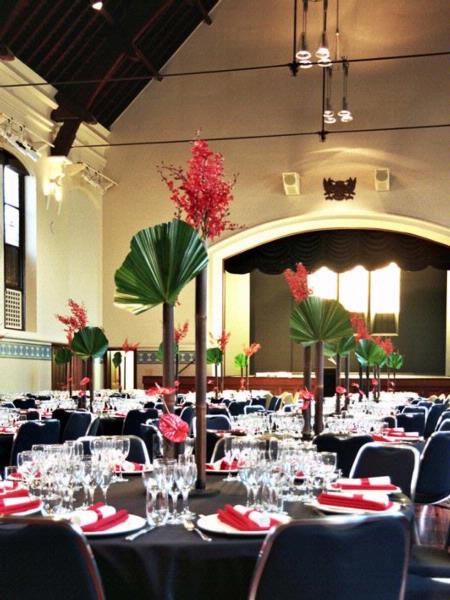 Drama, intrigue and a strong sense of history abound at the Perth Town Hall
Details
Capacity:200-500
Features:Kid Friendly,Live Music
Venue Type:Function Centre,Unique Venue
Description
To stage an event at the Perth Town Hall is to be part of history. Completed in 1870, it is Australia's only Gothic (medieval) style town hall and its only capital city town hall built by convicts.
Aesthetically, the hall is something to behold. A clock tower, Italianate arches, stained glass windows, hand-stencilled friezes and majestic spires lend dignity to any occasion, while polished jarrah floors and a 15-metre ceiling add a touch of drama.
All are enhanced by modern comforts, such as air conditioning, a lift, renovated kitchen and new sound and lighting systems.
All around the building is evidence of its remarkable past – from the names of convicts who worked on the site to programs from significant events held there over 140 years.The building's bricks are made of clay, which was quarried from pits that are now fishponds in Queen's Gardens, while the roof timbers were cut in Kings Park.
The Perth Town Hall inspires creativity and can host a variety of functions, from classical concerts and glamorous fashion shows to themed events and banquets. It also provides a cathedral-like backdrop for wedding ceremonies and receptions.
The venue is managed as a community facility, available for commercial, government and private events. Not-for-profit organisations are offered a discount, making it even more accessible.
Location
Address: Cnr Hay & Barrack Streets,Perth,WA,6000
Phone: (08) 9229 2965
Email: [email protected]