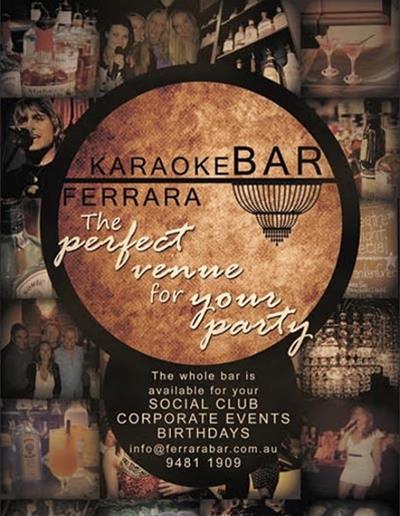 Perth's leading Upmarket Karaoke Lounge Bar.
Details
Capacity:10-50,50-100
Features:Indoor,Late Night,Licensed
Venue Type:Boutique Bar,Function Centre,Karaoke Bar,Nightclub,Unique Venue
Description
As one of the city's longest running and best established karaoke venues, Ferrara Bar is a Perth Icon.
Ferrara Bar has the most extensive and top quality English Karaoke song list in Perth with over 5,600 songs ranging from ABBA to Katy Perry, Elton John to Glee, Queen to Usher. We are always updating our collection to include all the latest and greatest hits.
Our range of music attracts some of Perth's top entertainers having a night off with friends and sharing their talent with a few great songs.
Our brand new premises on Queen Street offers a plush lounge atmosphere, with an open performance area. We do not have private booths, as we believe everyone should share the karaoke experience!
At Ferrara Bar, we want our guests to dress to impress and enjoy a great night out, so we do have a strict dress code that applies at all times.
The venue is also classy enough to hold your functions without the use of karaoke facilities. We have TV's with DVD access, Microphones and a full bar!
Location