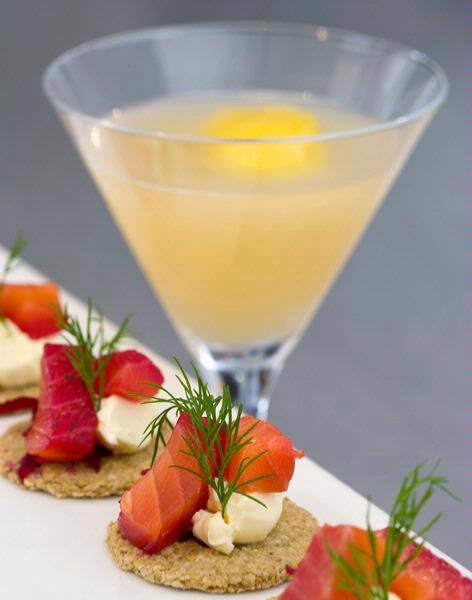 Let the inventors of cocktail and cuisine matching transform your next party or function into a taste and social sensation.
Details
Capacity:500+
Caterer Services:Cocktails,Dessert,Drinks & Staff,Drinks Only,Food Only,Non-alcoholic,Oyster Shuckers,Pizza Oven,Starters/Cocktail,Food & Staff
Cuisine:Cakes/Dessert,Asian,Australian,European,International,Italian,Pizza,Seafood
Description
You've no doubt heard of the perfect red wine complementing a steak dish, or a seafood platter with a bottle of riesling, but degustation doesn't often go this far. Cocktail Gastronomy's chef Daniel Sterpini and cocktail connoisseur Adam Keane have created a unique catering business based on carefully matching mouth-watering canapés with tantalising cocktails.
Focusing on cocktail-style events, the company can cater for parties, corporate functions, product launches and high-profile fundraisers. Cocktail Gastronomy will bring its staff, including a selection of Perth's best mixologists, to handcraft the cocktails. It will also provide an illuminated bar, glassware and crockery and leave the venue in a perfect state.
Using their senses and keeping in mind the effects of colour, texture, flavour and aroma, the award-winning pair mixes cuisine with
chic drinks to enhance the dining experience. The final product? Delicious combinations of food and drink in coordinated colour, texture and taste. Wood roasted duck complemented by a vanilla Manhattan, for example, or Siamese kedah chicken with a guava and
lychee martini. Spanish churros with a jaffa nightcap, anyone?
Corporate or private master classes, where the team will educate you on how
to use the senses to match cuisines with delectable
cocktails, are also available.
Cocktail Gastronomy focuses on,
but is not limited to, pairing chic cocktails with
delectable canapés for stylish events.
The company can cater for functions
as small as a dinner party or as large as a ball.
Award-winning chef Daniel Sterpini and
the team create food that is designed to be
eaten while standing, from intricate canapés to
more substantial wagyu burgers.
After gaining formal qualifications in
Australia, Adam Keane honed his craft overseas.
He is involved with several industry bodies and
has been mixing cocktails for Perth's social elite
Only premium ingredients are used
in the creation of both delicious canapés and
dreamy cocktails. Also available are cigar and
cognac tastings and other themed packages
Location
Address: Cocktail Gastronomy, Unit 18, 1 Baden Street,Osborne Park,WA,6017
Phone: 0417 511 125
Email: [email protected]