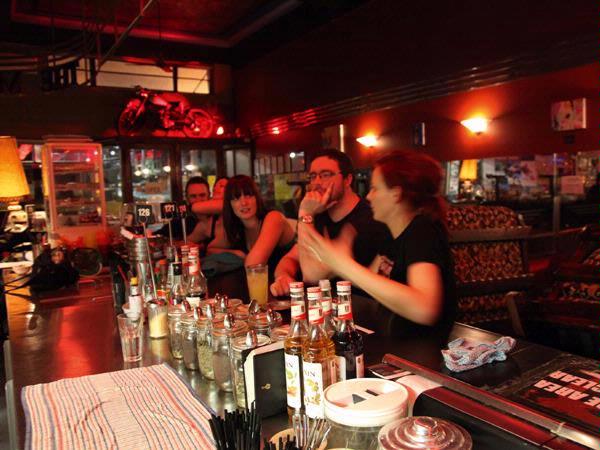 A relaxed inner-city loung, The Moon has long been a hot spot for devotees of delicious food, live music, retro furnishings and vibrant atmosphere.
Details
Capacity:10-50
Features:Live Music
Venue Type:Boutique Bar,Restaurant
Description
There are few cafes that stoke up the oven past midnight to serve delicious pizza, pasta, steak and burgers to late-night stragglers. Even more unusual is the addition of friendly staff, live music and an eclectic mix of artists. But that's exactly the setting for The Moon cafe – a Northbridge stalwart on William Street. And it's not just the current setting that screams awesomeness – the site of this uber-cool cafe has long been regarded as a place to be seen.
While it's been known as The Moon for 20 years or so, it was also a popular haunt in the 40s and 50s when it was home to The Blue Room Cabaret & Milk Bar. The spaces within The Moon are as diverse as the art and props that adorn the exposed brick walls. As well as the main art deco diner area, there's the Covered Courtyard – a kitsch vintage loungeroom, housing comfy retro couches and live music.
From Wednesday to Sunday, The Moon takes limited bookings and will allow one large booking of up to 20 people. These go very quickly so it's best to get in early. Anyone fancy Going Solo on Wednesdays? Perhaps you crave live jazz on Thursdays? Or maybe the spontaneity of a mixed bag on Sundays fires you up? At The Moon, you'll enjoy great music and great food, all in great company.
Location