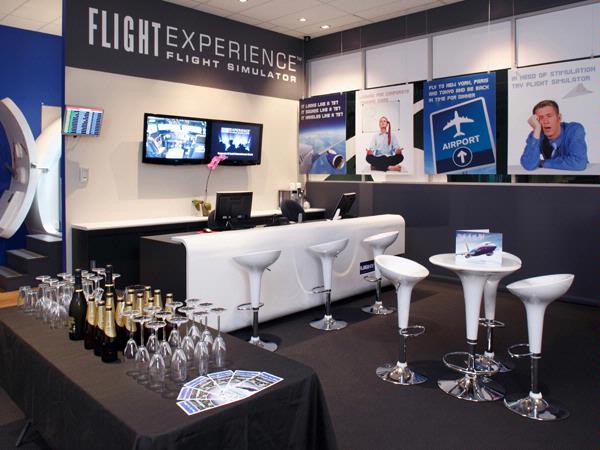 Flight Experience is the ideal venue for adrenalin-pumping functions including corporate events, company parties, team building days and birthdays!
Details
Description
When you ride a Flight Experience flight simulator, your experience will go something like this:
You're strapped into the captain's seat, feet planted on the rudder pedals, right hand clamped to the thrust levers, left hand on the control column.
You've had a full briefing from your own personal instructor, and you're ready to fly the plane.
With permission from Air Traffic Control, you advance the throttles and your Boeing 737 hurtles down the runway and takes off, climbing to 2000ft before banking into a 45° turn away from the airport.
You're airborne, and you can start to relax and appreciate the stunningly realistic scenery. But you don't have too much time for sightseeing; you need to manage your air speed, maintain your altitude and watch your heading. You need to be aware of any other traffic in the area, and monitor a dazzling array of screens and indicators.
Your destination awaits you, and whether you've chosen your local airport, an international hub airport or a white-knuckle approach (like Hong Kong's Kai Tak or Paro's short, 17,000ft peak-surrounded runway) you must keep a cool head to apply your new aviator skills to nail your landing.
This is not a game!
Flight Experience is similar to the flight simulators that airlines use to train their commercial pilots, and its 100% authentic replica cockpit delivers a total immersion virtual reality environment. The 180° wraparound visuals, high-fidelity sound and cooling systems, along with a slight seat vibration, all combine to fool your senses into believing you are actually captaining a jet airliner.
Whether you're an aviation enthusiast, a frustrated would-be pilot, a thrillseeker, an adrenalin junkie who likes a challenge or a complete novice, there's a Flight Experience to suit you. All without leaving the ground!
Location
Address: 355 Newcastle Street,Northbridge,WA,
Phone: 08 9228 8737
Email: [email protected]