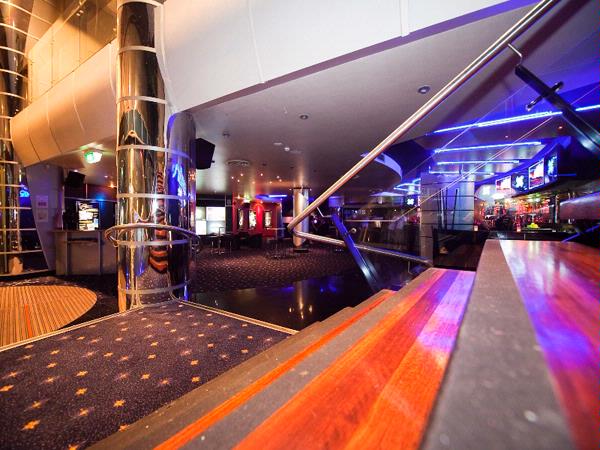 Empyrean Function Centre in Northbridge proudly presents a first class venue with a Foyer Bar & Cafe, Mezzanine Function Area and Theatre Room.
Details
Capacity:100-200
Features:Kid Friendly,Live Music
Venue Type:Function Centre,Unique Venue
Description
Experience elegance, style and versatility at Empyrean Function Centre
Empyrean Function Centre, located in the heart of Northbridge is an exciting venue perfect for both corporate and private functions and events. Empyrean offers first class function amenities with the Foyer Cafe and Bar, Mezzanine Function Area and the Theatre Room.
Foyer Bar & Cafe
Upon arrival at Empyrean, guests enter the Foyer Bar and Cafe, immediately welcomed by the warm ambience and professionally trained barista and bar staff. Empyrean is a fully licensed venue with a fine selection of wine, beer and spirits available in beverage packages or through the operation of a cash bar.
The Foyer Bar and Cafe is equipped with a DJ booth, including decks and sound system. There are plasma screens and light boxes throughout the foyer which can be used by clients to customise their function with branding or promotional material.
The Foyer Bar & Cafe can comfortably accommodate 200 people for cocktail style functions and 40 seated.
Mezzanine Function Area
With an abundance of natural light and great acoustics, the possibilities in Empyrean's Mezzanine are endless. From seminars, private events and corporate functions, live musical performances to lunch functions with special guest speakers, this place has potential, limited only by one's imagination. Caters for up to 264 people cocktail style or 160 seated.
Theatre Room
The Theatre Room comfortable seats from 30 to 300+ guests. The theatre has been refurbished with state-of-the-art audio-visual capabilities including a retractable cinema screen, stereo sound, professional lighting and removable versatile staging. To date, Empyrean has provided this stunning venue for film festivals, music award evenings, boxing matches, corporate seminars, and the list goes on.
Catering and Beverage Packages at Empyrean
Empyrean offers an extensive array of catering and beverage packages for your consideration. The following menus – black tie dinner and spring canapé menu – provide just a taste of the options available to you and your discerning guests when choosing Empyrean for your next function.
Empyrean Black Tie Dinner Menu | $80pp for three courses and canapés
Canapés on arrival
Mini Prawn Cocktails served in a spoon.
Mini 'Bruschetta' and Goats Cheese in Filo Pastry.
Salmon, Spinach and Fetta Tartlettes.
Morroccan Lamb Pies with Green Tomato Chutney.
Harvey Beef Pies with Maggie Beer Spiced Tomato.
Entree
Spiced Pumpkin and Sweet Potato Soup with a Haloumi Twist.
Main course
Medium Fillet of Butterfields Beef with a Cucumber Salad and Spiced Shiraz Glaze.
Grilled Barramundi on a Cherry Tomato Fondue with Saffron Buerre Blanc.
Kipfler Potatoes for the table.
Vegetarian Option
Caramelised Onion and Tomato Tart with Goats Cheese and Balsamic Reduction.
Dessert
Vanilla Bean Crème Brulee with Almond Biscotti.
Fresh Fruit Platter for the table.
Spring Canapé Menu prepared by Private Chef Ryan John | $20pp
King Island Beef Pies with Maggie Beer's Spiced Tomato Sauce.
Selection of Nori Rolls with Pickled Ginger and Wasabi.
Assorted Quiches; Sundried Tomato and Quiche Lorraine.
Moroccan Lamb Pies with Green Tomato Chutney.
Spring Rolls and Samosas with Thai Nam Jim Sauce.
Chicken Vietnamese Rice Paper Rolls with Miso Sauce.
Mini 'Bruschetta'.
Filo Tarts with Goats Cheese.
Natural Coffin Bay Oysters with Mango and Coriander Salsa.
New Norcia Sourdough Baguette with Black Olive Tapenade.
Toasted Turkish Bread with Hummus, Tatziki and French Onion.
Contact Empyrean for the full Catering and Beverage Options Package.
Testimonials
Empyrean is proud to share the experiences enjoyed by our clients and their guests.
"A big thank you to yourself, Patrick and the rest of the Empyrean staff for helping us make this year's WAMi Conference such a success. The staff was very friendly and attended to all our needs. The Foyer Bar was a feature well received by the guests and certainly added to the ambience of the place. One of our objectives was to encourage our guests to use the function centre as a hub and to stay there as much as possible, and I think that the combination of the Foyer Bar, wireless internet and plenty of comfy lounges and space made this happen. The catering was delicious and ample, and I'm really pleased with how you were able to tailor the menu to our budgetary requirements. I'd also like to thank you, Alison, for the personalised service in the lead up and during the conference. Quick turnaround on all requests and questions - fantastic! You also brew a wicked cup of coffee :)" - Daphne Tan, WAMi Music Business Conference.
"I can't thank you enough for what you have done for us. We were very pleased and proud to hold the forum at the Empyrean. All the staff were very helpful and conducted themselves in a very professional manner. Nothing was too difficult for them. It was a wonderful experience and we were really well looked after. Made us feel very special. It was a pleasure working with you and I look forward to future collaboration." - Elvira Edwards, Senses Foundation (Inc).
"I just wanted to thank you sincerely for all your hard work and support for the above named event (Rosie 'n' Ray Film Launch). You should know that everyone who attended was particularly impressed and very excited to attend the event at your Function Centre. We have received a lot of positive feedback from our sponsors and supporters as well as distinguished guests and the participants and all the staff involved, that everything was organised and a lot of attention went into the details and it turned out to be the best venue a lot of them have been to in Perth yet." - Mwaba Mwaba, City of Stirling.
Contact Empyrean
Choose Empyrean for your next function or conference, and be treated to first class facilities, event and catering management services and friendly staff looking after your guests.
The Empyrean, 12 Lake St Northbridge, is also home to Perth's premier Hospitality Training Academy offering nationally accredited Hospitality, Barista, RSA and Security Operations courses. For further details visit www.empyrean.net.au or to make a specific enquiry or booking please call us on 9228 1600 or [email protected]
Location