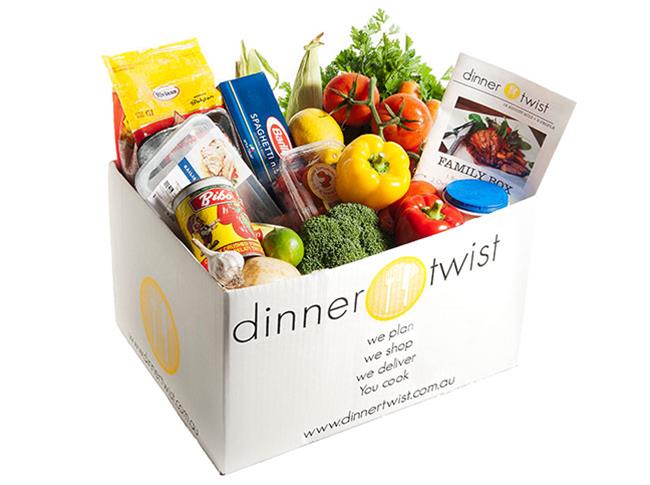 Dinner Twist plan, shop and deliver nutritious ingredients with easy to cook recipes direct to your door, but leave the fun part to you – the cooking!
Details
Description
The easy way to cook healthy dinners at home!
Dinner Twist plan exciting, varied and easy to cook meals for you and your family. The carefully selected ingredients are home delivered along with the matching recipes every week or fortnight.
The Dinner Twist Mission: "Improve quality of life for our clients by enabling them to enjoy healthy, home made and delicious food with little or no stress"
dinner twist is a family owned business based in East Fremantle. The company was founded in 2011 by My and Chris Tistrand.
The inspiration for dinner twist came on one of our recent trips to our home country Sweden. The concept of a home delivered grocery box with matching recipes had become very popular with all size families in the past years. The stories of enthusiasm and relief shared by friends made a big impression on us. - How they loved not having to worry about meal planning, the time saved not having to do the shopping, the pleasure of offering their children healthy and varied food and most importantly – that extra bit of quality time this offered in a stressful family life! Inspired by friends and armed with a desire to offer Australian families a convenient way to healthy home cooked meals, dinner twist was born. Being parents ourselves, we know first hand the difficulty of preparing a well balanced diet during a busy week. With dinner twist, your food will not only be varied and healthy, you may also learn some more about cooking! Perhaps you will get to try food for the first time and more than likely will your family appreciate the new twists to dinner! We am very thankful for the support received in Perth. The positive feedback from our customers is the best driver to keep creating more exciting dinner twist meals! Not only do we manually inspect the quality of all the products in your box, we also treat your food with the care and respect it deserves – all the way to your door! Enjoy your food and love to cook! Warm regards My & Chris
Location