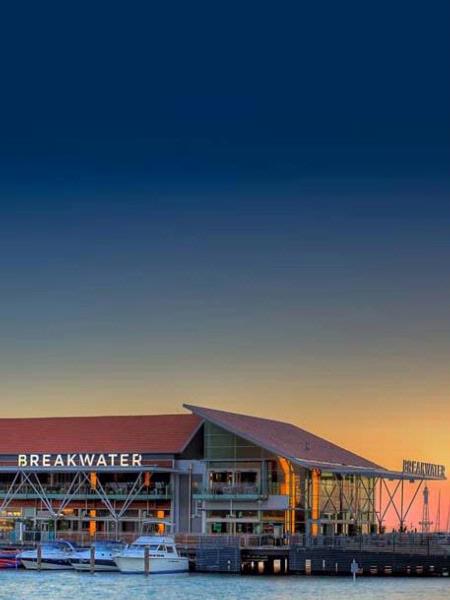 Award-winning architectural design, chic interiors, laidback style and a stunning location overlooking Hillary's Boat Harbour combine to make The Breakwater one of Perth's premier function venues.
Details
Capacity:100-200
Features:Kid Friendly,Live Music,Waterfront,Outdoor Dining
Venue Type:Boutique Bar,Function Centre,Restaurant
Description
Going by the philosophy "from the epic to the intimate", The Breakwater offers a choice of function spaces making it just as suitable for intimate gatherings as it is for large-scale events.
The perfect spot for your next sundowner, birthday party or hen's night. We can arrange an area for you (minimum numbers required) and organise delicious food from our Platter Menu.
Reid's Lounge is an opulent area that is ideal for your next gathering. Platter and Canapé menus are available to ensure your guests have a delightful time.
The versatility of Reid's Lounge means that you can have your very own, entirely private lounge and balcony area to entertain your guests, accommodating up to 140 people. Minimum spend amounts apply.
The private dining room in Ishka is an ideal private location to have your next dinner party, accommodating up to 14 guests comfortably. For parties of 12 or more we have specially designed menus for lunch or dinner.?
The Akoya Suite is a stand out. We cater for engagement parties, birthdays, Christmas functions, sit down dinners, corporate meetings and seminars, and all your special occasions.
For that very special occasion, you need a very special venue. The Akoya Suite, with Swarovski crystal chandeliers, stunning décor and views out over the harbour and Indian Ocean will provide the perfect and glamorous location to make sure your special day is unforgettable.
Location