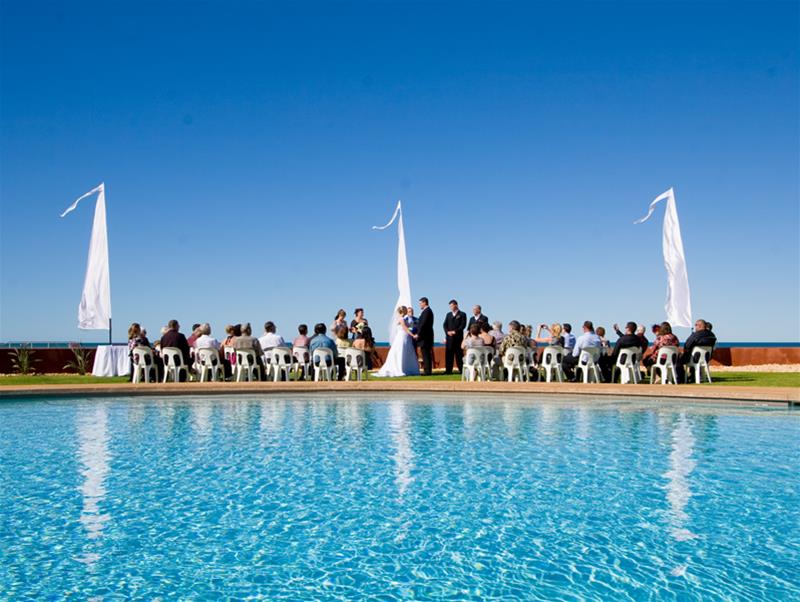 Mantarays Ningaloo Beach Resort
Just metres from the waterline, the luxurious 4.5 star Mantarays Ningaloo Beach Resort in Exmouth, is at the gateway to the world heritage-listed Ningaloo Reef and Cape Range National Park.
Details
Capacity:100-200,Under 10,10-50,50-100,200-500
Features:Indoor,Live Music,Waterfront,Kid Friendly,Licensed,Outdoor Dining
Venue Type:Unique Venue,Resort,Restaurant,Function Centre
Description
The unique Mantarays Ningaloo Beach Resort, the sole resort on Sunrise Beach, is within the Exmouth Marina Village.
Mantarays Ningaloo has 68 rooms including hotel rooms, one and two bedroom self contained apartments. Three bedroom apartments are available on request. All rooms have ocean views and direct access to the beach.
The spacious apartments with spa baths, a number with full kitchens and 24 hour room service mean guests never have to leave their exclusive surrounds.
The vision for the resort was to create a relaxed 'beach house feel', with a contemporary edge. A superb facilities building, a central feature of Mantarays Ningaloo provides this ambience and sets the tone for the world class beachside location. It indulges visitors with an ocean vista from the moment they enter the building.
Mantarays Ningaloo Beach Resort boasts Gold Plate Award winning Mantaray's restaurant, bar, resort swimming pool and gymnasium.
Mantaray's restaurant further indulges guests with fresh local seafood and seasonal produce. An innovative menu gives diners the chance to taste regional food, in comfort while experiencing the natural environment.
Leaving the red dirt behind guests feel relaxed in the modern complex set metres from the cooling waters of the Gulf. They can watch the whales and dolphins from their balconies or venture out for Exmouth's seasonal highlights. Any season is a great time to visit Exmouth as each season holds a unique natural offering. Nesting turtles in summer, humpbacks in the shoulder season and whale sharks in the high season.
Mantarays Ningaloo is an oasis from which to experience Australia's largest fringing reef. Ningaloo's star attraction the whale sharks inhabit the local waters between April and July each year. Ningaloo is one of the few places in the world where you can swim with these gentle giants of the sea.
CONTACT
Call the resort on (08) 9949 0000 or email [email protected]
For more information or to take our virtual tour go to www.mantaraysningalooresort.com.au
www.facebook.com/mantaraysningaloo
Location
Address: Madaffari Drive,,Exmouth,WA,6707
Phone: (08) 9949 0000
Email: [email protected]