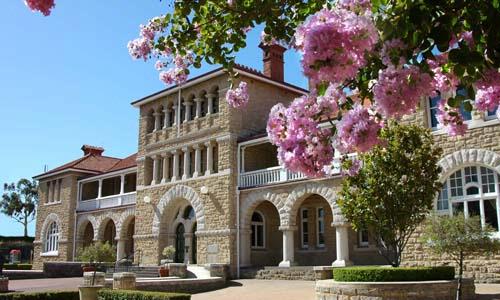 The Perth Mint in the heart of the city gives visitors an insight into gold production, including the opportunity to watch gold being poured and to handle an ingot worth over $500,000.
Details
Description
The history of The Perth Mint started with the founding of the Perth branch of Britain's Royal Mint in 1899. At the time, gold sovereigns and half sovereigns were used throughout the British Empire as everyday circulating coins and it was the Royal Mint's responsibility to supply them. Rather than shipping gold to London and then distributing them back to Britain's colonies, the Royal Mint built a number of branch mints throughout the Empire in places where gold was found. The Perth Mint was one of these – built to refine gold mined in Western Australia and turn it into sovereigns. When sovereigns were withdrawn from circulation in 1931, the Mint used its skills in the production of other coins, while still continuing to refine gold. It remained under British ownership until 1970 when control passed to the Western Australian Government, who owns it to this day.
Gold Corporation was created under its own Act of Parliament (Gold Corporation Act 1987) to take over the operations of the Mint and launch Australia's official bullion coin program. The Australian Nugget coin was launched in 1987, and was followed by many other successful Australian legal tender bullion coin programs and numismatic and commemorative coins.
Today Gold Corporation, or as it is more commonly known, The Perth Mint, facilitates investment in precious metals not only by supplying coins and bars, but by also providing the opportunity for investing in precious metals without the issues associated with taking physical metal, through the various products offered through The Perth Mint Depository. One of these is The Perth Mint gold product quoted on the Australian Stock Exchange. The Perth Mint has a reputation for innovation and superb quality in its commemorative and numismatic coins and is an important supplier of precious metal blanks to other mints, including some of the other major mints in the world. With over 80% of its turnover is contributed by exports Gold Corporation is the eleventh largest exporter in Western Australia.
A visit to The Perth Mint has become an essential element of any tourist's visit to the "golden" State of Western Australia. Offering a unique array of attractions, including the spectacular 1 tonne pure gold coin, the traditional gold pour and the chance to handle a 400oz pure gold bar, the Mint's Gold Exhibition and retail facilities attract thousands of international, interstate and local visitors each year.
Gold Corporation run Australia's only LBMA accredited gold refinery, which refines most of Australia's gold production, gold from surrounding countries and also secondary gold, mainly from Asia. It is one of the highest throughput gold refineries in the world and also refines considerable quantities of silver.
Location
Address: 310 Hay Street,East Perth,WA,6004
Phone: (08) 9421 7223
Email: [email protected]