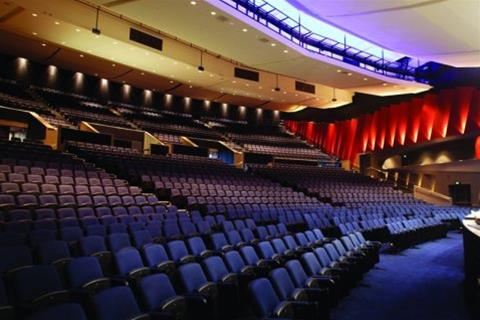 Perth's largest tiered theatre has been specifically designed to cater for a wide range of events including concerts, conferences, speaker presentations, ceremonies and graduations.
Details
Description
Capable of accomodating 2,500 people, the Riverside Theatre has the flexibility to be used in full or half-modes providing space appropriate for events with 400 or more attendees. The Riverside Theatre offers the latest in lighting effects and communications infrastructure and features an operable wall connecting the theatre stage to Exhibition Pavilion 1 to create dramatic 'reveal' opportunities.
Located on Level 2, the Riverside Theatre is close to all meeting rooms and the Level 2 Registration Desk. The theatre foyer features two bars and provides the perfect atmosphere for pre- and post show drinks.
Features
Riverside Theatre features:
Permanently installed Theatre audio system
Three High powered Theatre projectors*
Three Motorised ceiling drop down screens (1 x 6m centre screen and 2 x 4.5m side screens)*
Ceiling mounted speakers*
Pre-programmed dimmable house lighting
Green Room
VIP Room
Four Dressing Rooms
Hardwired hearing augmentation throughout
Non obstructive viewing
Two Interpreter booths
Writing tablets in the forward half of the theatre
Location