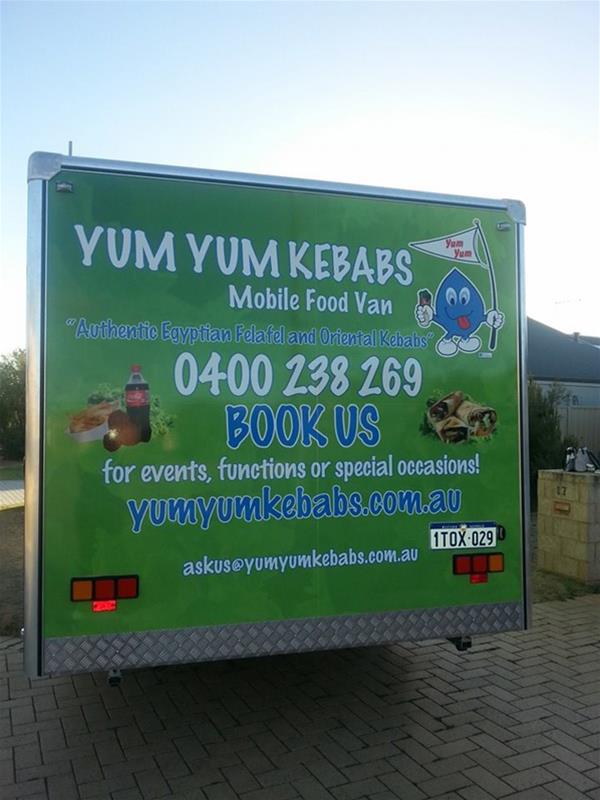 Yum Yum Kebabs - Mobile Kebab Van
Unique and different mobile kebab van specialising in authentice Egyptian home made felafel and other middle eastern menu items all freshly made daily. Add to that the standard Aussie classics
Details
Capacity:100-200
Caterer Services:Full Service
Cuisine:Australian,Other
Description
We wish to introduce ourselves and our mobile food van to you and invite you to use our business to supply a unique and exciting new food vendor to attend your events, functions or to simply cater for any special occasion or regular event you may be holding during 2014.
We are Yum Yum Kebabs, mobile kebab van registered and based in Rockingham. We are the owners and operators, Hosam and Glynis.
Hosam is Egyptian and has a passion for food from his country and uses his mother's traditional recipes for some of our menu. Unique to Yum Yum is our traditional home made felafel, tahini sauce, hummus, garlic mint sauce and tabouli. We have home-made relish and chutney which is very unique for kebabs and we are especially excited about all our menu items that are made with love and passion. We combine these with the well- loved Doner and Chicken kebabs and Aussie style salad and sauces to make a complete and special menu for our customers. We cook fresh and hot in the van. Kebabs are made to order. Our kebabs are made in 3 different sizes, which are kids, regular and large, and we make hot chips and offer the Coca-Cola range of cold drinks, juices and water.
Glynis has lived in Western Australia since 1970 and over time has been involved in a multitude of schools and higher learning institutions, sport clubs, social clubs and not for profit organisations. She knows that it is time to offer a totally different business that can really add value to your plans and event outcomes.
We employ local people in our business and use local suppliers where possible, like the award winning small business "The Twisted Pickle" who makes our relish and chutney.
We believe that having us at your event will be an opportunity to provide your attendees something they have not experienced before; making your event stand out from others you have held.
We have attached our menu for you.
We invite you to "Like Us" on Facebook.
We encourage you to have us at your next event. For a small booking fee we can set your date or dates aside. Contact us soon to discuss your requirements. Simply call Glynis on 0400238269 or email us at [email protected]
We look forward to hearing from you in the near future.
Location