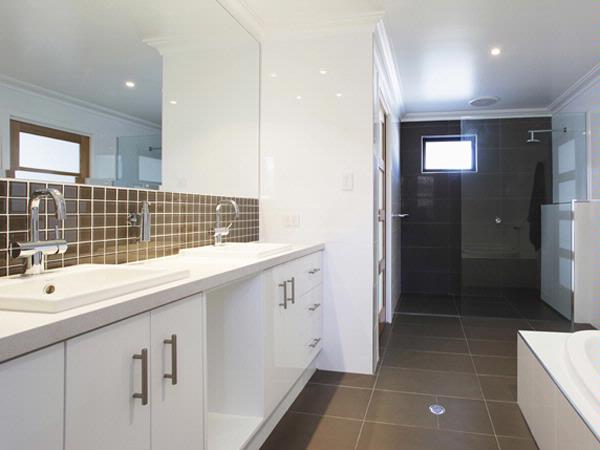 Julie Levin Design Gwelup
These modern bathrooms were designed to provide ultimate functionality in a newly renovated abode.
Details
Description
As part of the renovation and extension of the client's house, Julie Levin of Julie Levin Design was engaged to renovate an existing bathroom and design a new master ensuite in the upstairs extension.
The downstairs bathroom had limited space and needed to include a double vanity, bath and shower, while the master ensuite allowed for plenty of room to create a resort style luxury bathroom. Both bathrooms needed to be very functional, clean and modern.

The downstairs bathroom was stripped and started from scratch. Julie designed the bath and shower to be incorporated as one due to the lack of space. The cabinetry was continued to the floor to maximise storage space and the colours were kept neutral to make the room appear as large as possible. Julie designed a nib wall in the shower which ran above the vanity as an extra shelf and used a frameless shower screen to further create a seamless, clean look.
In the upstairs ensuite, Julie decided to continue the theme from the downstairs bathroom. The large space allowed her to design the bathroom with a spa, separate shower and adjoining toilet. Julie also designed two Tasmanian Oak cavity sliding doors with coloured acrylic insets to add a natural element whilst also letting in some extra light.
Julie spent a lot of time with the clients discussing finishes and materials and how each space would be designed.
"It was important to take in factors such as space required, basin sizes they were used to and even what type of shower head they preferred," says Julie. "We chose some special features for each bathroom which included funky accessories, a wall hung toilet in the ensuite and a fabulous spa hob outlet." Julie even helped the clients choose their towels for the finishing touch.
Related
Julie Levin Design South Perth
Julie Levin Design Mount Lawley
Location