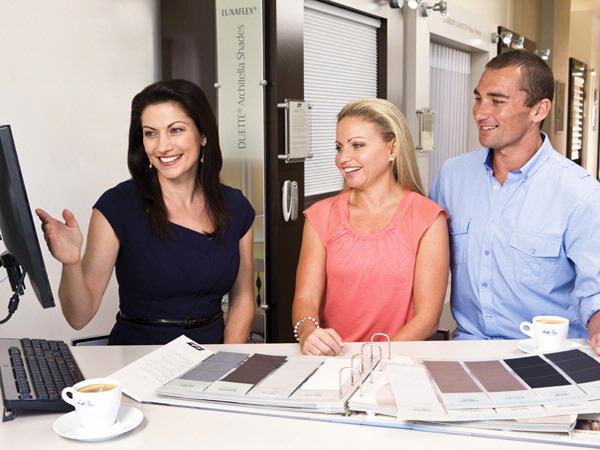 LUXAFLEX® Window Fashions Gallery
Your local LUXAFLEX® Window Fashions Gallery can help you find an internal window fashion or external shading solution to meet your design and energy efficiency needs year-round.
Details
Residential:Awnings,Blinds,Shutters,Window Coverings
Description
LUXAFLEX® Window Fashions Galleries offer the largest selection of quality blinds, awnings, and shutters available. Constructed from the highest quality materials and to the most stringent standards, they're designed to keep on performing.
Experience first hand, the full-size range on display, the stunning array of fabrics, finishes, colours, styles and operating options available at your local LUXAFLEX® Window Fashions Gallery showroom. The experienced team are on hand to provide personalised product and design advice for a solution that meets your needs.
Visit your locally owned and operated LUXAFLEX® Window Fashions Gallery or book your free in-home consultation today and experience why Smarter Design begins with us.
Call 13 LUXAFLEX (13 58 92) or visit www.luxaflex.com.au for your nearest Gallery showroom.
WA LUXAFLEX® Window Fashions Gallery Showroom locations
Metro: Alfred Cove, Canning Vale, Joondalup, Kalamunda, Midland, Subiaco
Regional: Albany, Broome, Bunbury, Busselton, Kalgoorlie, Mandurah

Related
LUXAFLEX® Woods Collection
LUXAFLEX® Timeless Awnings Collection
LUXAFLEX® Softshades Collection
LUXAFLEX® Softshades Collection
LUXAFLEX® Folding Arm Awnings
LUXAFLEX® Fabric Collection
LUXAFLEX® Evo Awnings Range
LUXAFLEX® Aluminium Collection
Location