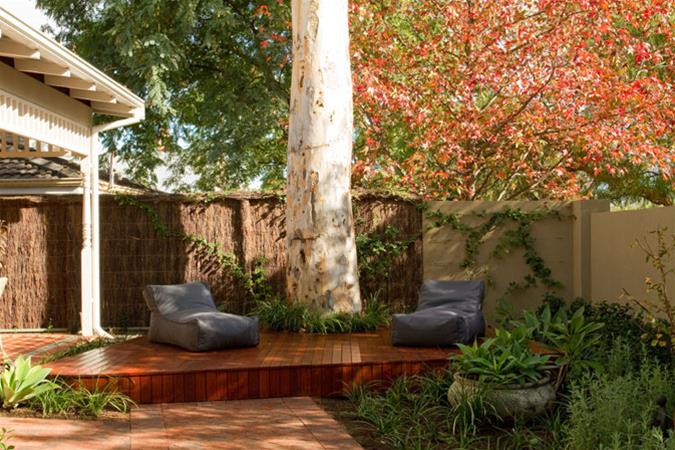 The owners were just at the end of a major house renovation, and wanted to 'tidy' up the front yard. They wanted quite a modern contemporary look, but still tie to the architecture of the house.
Details
Home Design Type:Courtyard,Landscape Design,Renovation
Description
A very large gum tree was responsible for nothing being able to grow underneath. They wanted an alternative to lawn, but somewhere the kids could go and sit with their friends etc. The boundary wall also made the area feel very enclosed, and they wanted to open it up to the street a little more. Access to the front door was from a gate at the side of the property, and the front door in the middle. On entering the property it was a little confusing as to where the front door was.

A pathway was designed using a long arcing curve to direct you to the front door. Utilising recycled red pavers to tie in with the age of the house. A raised deck under the gum tree, provides a space to throw some cushions or beanbags for the kids to hang out. Over time the garden will grow around the deck, giving it a more lush private feel. Several courses of the boundary wall were cut off between the pillars to open the garden up a little. The trees and plants designed into the garden will be tolerant of the shade provided by the gum tree, and with no lawn to suck away the extra water, the garden should now thrive.
Related
St Mary's Cathedral Project
Location