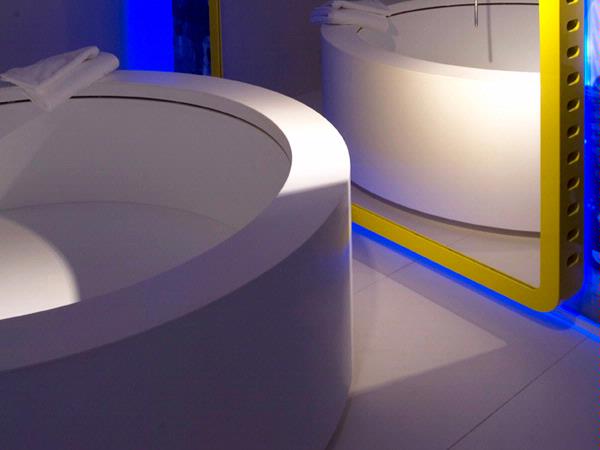 Staron® Solid Surfaces by Samsung in the Bathroom
Staron® Solid Surfaces by Samsung, is suitable for endless applications. With a smooth finish and a range of over 80 colours to select from, Staron® is both aesthetically and functionally pleasing.
Details
Residential:Bathroom,Baths,Cladding,Kitchens,Sinks,Surfaces,Toilet Suites,Wall Cladding
Description
Create a warm and tranquil bathroom environment that will transform into a sanctuary. Use Staron® to create formed vanity bowls, vanity tops, walls, floors, shelving and bath tubs.
With a seamless finish, Staron® provides a continuous surface with no open joins. Use one of three standard vanity bowls - or push the boundaries of design by creating a custom vanity space. Use long drop down edges and curves for a dramatic elegance that is unique in design and function.
Use Staron® to create a thermoformed bathtub that will feature as an art-like structure in the bathroom. Continue Staron® to the bath surrounds for an integrated look that is easy to maintain.
Combined with a Staron® vanity top, a high use wet area will be totally renewable and non-porous.
Imagine a bathroom with no grout lines! Staron® wall paneling provides a smooth and seamless finish with no dirt-trapping crevices, no mould and no mildew. Staron® prevents the growth of bacteria or mould making cleaning easy along with healthy living and creative design possibilities.
Related
Staron® Solid Surfaces by Samsung in the Kitchen
Location