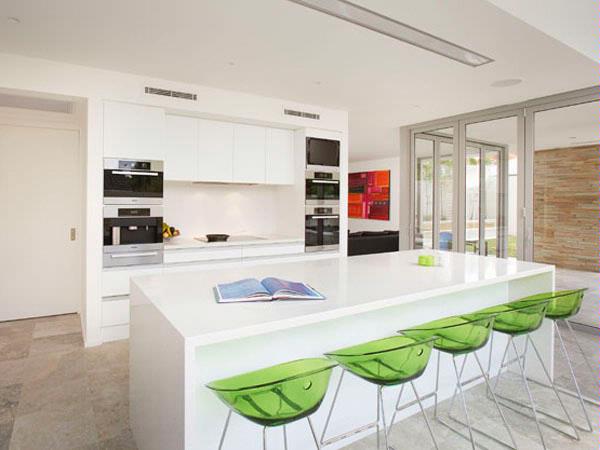 Dean Kitchens Shenton Park
Details
Description
Installing appliances galore while maintaining a sleek and simple look was the challenge for this kitchen.
The clients desired a minimalist, white space and provided a very specific brief to Jason Levin from Dean Kitchens.
The cabinetry was to be designed flush with the stone bench tops while aluminium strip handles for base cabinets and drawers were requested to create a horizontal, linear aesthetic that enhanced a minimalist design.
The clients also had very specific ideas regarding appliances and gadgets, intent on creating the "designer dream kitchen". The kitchen needed to incorporate a Liebherr fridge, and Miele cooking appliances including a hot plate, pyrolytic oven, steam oven, built-in coffee machine and plate warmer.
To further test the minimalist look, Jason incorporated two Miele dishwashers, a zip tap, two undermounted, square line sinks, two built-in bin chutes and a flat panel television.

Labelling the project an "extraordinary design challenge", Jason set about creating a masterpiece by a method of deduction. The kitchen was defined by three zones, each having a specific function.
The first zone featured the incredible cooking gadgetry and was designed symmetrically. The hot plate was centred in the middle of the back wall, while the two 600mm modules containing the Miele cooking appliances and the television were placed either side.
Centre drawers balanced the space, with equally proportioned bench space either side of the hot plate. The centre drawers' aluminium handles produced an ultra clean line throughout the zone.
To complete the area, a concealed Qasair rangehood was centred over the hotplate with equal-sized overhead cabinets with push latch doors placed either side.
The second zone was defined by the bin chutes' placement, which were designed to send waste directly to external council bins leaving no need for the client to walk malodorous bin bags through the house.
The fridge and dishwasher were also installed in this zone, plus ample space was available for the sink cabinet.
The abundance of space allowed for plenty of room to wash up and accommodate two undermounted, square line sinks and plumbed-in draining board.
The third and final zone was the island that lined up exactly in length with the hot plate wall, resulting in perfect symmetry. The island provides the kitchen three metres of uninterrupted bench space for entertaining and preparation.
On the inner side of the island, a second dishwasher and three enormous drawer banks continue the horizontal aesthetic with the aluminium strip handles. Facing away from the kitchen, the island has a generous overhang to provide ample leg space.
Funky, translucent green stools add a splash of colour to the stark kitchen and provide a perfect spot to watch the television, enjoy a meal or spread out the morning papers.
The final product is the epitome of stylish minimalism and is both a functional and discerning kitchen space.
Related
Dean Kitchens West Leederville
Dean Kitchens North Coogee
Location