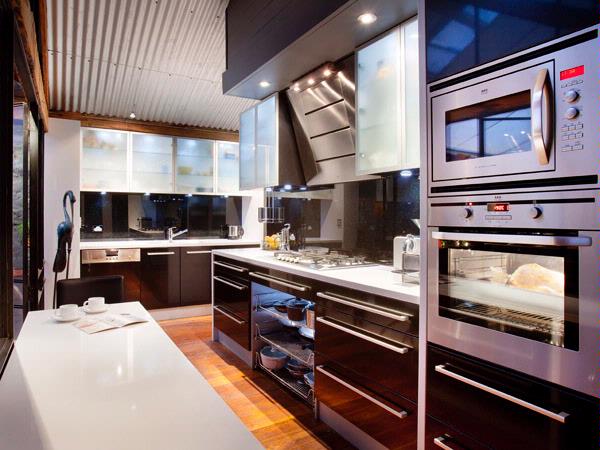 Details
Description
It's not every day that a kitchen designer gets the opportunity to design and construct a kitchen in a funky warehouse apartment. But that's exactly what happened to Jason Levin when the owners of Dean Kitchens asked him to assist in the design of their warehouse apartment kitchen.
The style of the apartment, which features original timber flooring and a glass-enclosed inner courtyard, is best described as industrial-meets-contemporary-meets-homely. Jason and the owners worked within this theme, ensuring that the space integrated seamlessly with its surroundings, while simultaneously creating a backdrop for personal treasures collected from around the world.
The design team opted for an open plan design to maintain the spacious and airy ambience. The kitchen leads out to a courtyard/alfresco area so the open plan design makes it ideal for entertaining.
Existing ceiling heights determined the dimensions of the kitchen's custom-made cabinets, which needed to fit under the bulkhead and orb ceiling.
A black and white colour scheme was chosen to match the iron and glass elements that feature throughout the apartment. Black cabinets and drawers are complemented by white Essa stone which appears in the benchtops, the column at the far end of the kitchen, the mitred fridge surround, the oven tower end panels, and the waterfall ends of the base cabinets.
Aluminium accents in the overhead cabinets' feature glass framework, the door and drawer handles, and kickboards add a polished, yet industrial feel.
Top-of-the-range European appliances and Hettich hardware were used throughout the kitchen, including an eye-catching canopy rangehood.
Plenty of LED lighting floods all work zones and simultaneously creates a sexy, illuminated aesthetic reminiscent of the inner city. Opposite the kitchen is a separate bar/entertainment hub (pictured, far left) whose screen partition doors feature a dazzling New York City skyline backdrop, enhancing this urban ambience.
Related
Dean Kitchens West Leederville
Dean Kitchens Shenton Park
Dean Kitchens North Coogee
Location