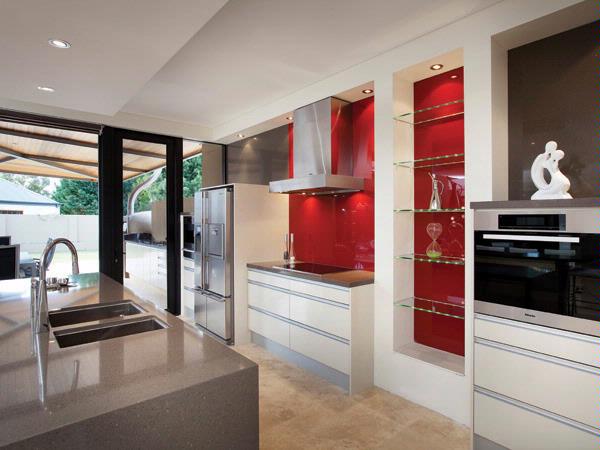 Details
Description
While maintaining the strong architectural lines of this new magnificent home, the owner's brief called for a creative and colourful edge.
By enlisting the help of Dean Kitchens designer Jason Levin, the kitchen was created to feature two islands, plenty of storage, LED illuminated glass shelves and a gourmet selection of Miele appliances.
The LED lighting that illuminates each of the glass display shelves is rear fitted – this is to allow the light to penetrate through
each shelf independently.
The kitchen is a multitude of different levels and heights, which creates amazing horizontal and vertical lines, while the different use of colour leads to a very strong design element.
The colour of the glass splashbacks in Volcano red creates a serious 'wow factor', while the adjoining Essastone Byzantine gives the kitchen a sophisticated and luxurious feel.
The kitchen is extremely contemporary, has an outstanding build quality and offers an abundance of storage.
Different height levels and an array of colours and materials are all complemented by the feature bulkheads and high-end appliances.
Related
Dean Kitchens West Leederville
Dean Kitchens Shenton Park
Dean Kitchens North Coogee
Location