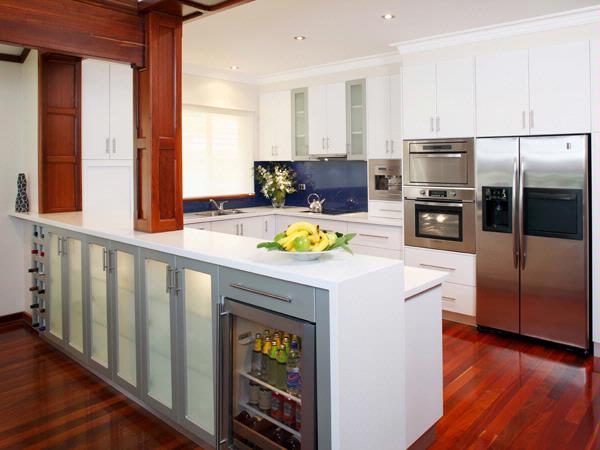 Details
Description
The team at Kitchen Decor specialises in kitchens, bathrooms and laundries, and prides itself on customising each project for the client's lifestyle and budget.
The owners of this older home wanted to update their kitchen as well as create more space. The trickiest part of the renovation was working with the steel, constructional support column extending from the ceiling to the floor, and through the middle of the island bench.
The client required a benchtop product that would fit seamlessly around the column while complementing its jarrah cladding.
They also wanted to use Kleenmaid appliances, leaving Kitchen Decor to design their renovation to suit.

In order to keep the exposed support column and remodel the bench, the Kitchen Decor team used a Staron benchtop – an acrylic product that allowed for seamless joins around the column.
To complement the striking glossy benchtop, they used a vinyl wrap door in Antique White Ash, the white-on-white tones bringing light into the kitchen, and contrasting with the deep reds of the jarrah.
Their glass splashback is in a deep blue, harmonising with the crisp white of the cabinetry and rich reds of the jarrah beams and floor, whilst introducing a bold statement.
A custom-made wine rack made to fit a number of bottles specified by the client is a practical addition, as well as an aesthetically appealing one. Finished in brushed aluminium, it sits beautifully alongside their cupboard door handles.
The kitchen was also largely designed around the Kleenmaid appliances, which include a steam oven, oven, cooktop, bar fridge, coffee machine, fridge, microwave oven and rangehood – all come with an exclusive 5+5 year warranty.
Kitchen Decor's commitment to customer service and top-notch personalised assistance took care of all electrical, plumbing, tiling and plastering tradesmen, obliterating the hassle of renovation.
Their efficient and precise installation was completed with minimal disruption, providing quality at competitive prices.
Location