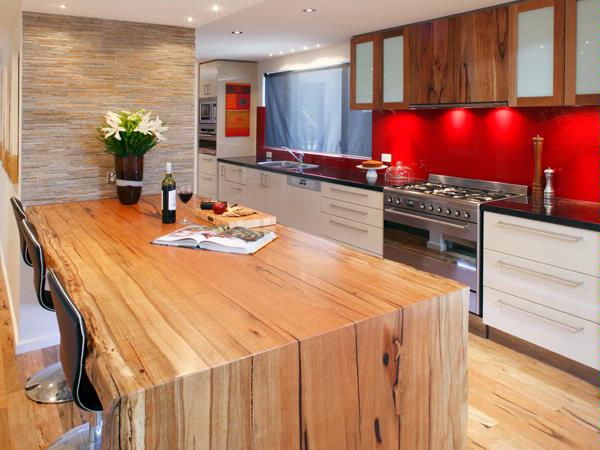 Franke Cabinets Karrinyup 2
Details
Description
Strong relationships are the backbone of Franke Cabinets and one of the reasons the business continues to impress.
The owners wanted to modernise their 80s-style home and create a flowing, open-plan living space that the family could enjoy. They wanted to expand their previously small kitchen to create warmth, function and style.
Franke Cabinets took care of the entire process and started by removing walls and the existing pantry, and installing new wider doorways. This allowed for an open-plan area with more floor space.
A combination of materials was used to add warmth and complement the uniqueness of the design. The Marri natural edge bench is this kitchen's standout feature and is further enhanced with under-bench and kicker lights.
The bench and the overhead cupboards mirror the beautiful timber floor, while the pewter granite bench provides a contrast to the striking red splashback.
A stone wall enhances the softness of the benchtops and adds varying texture, while stainless steel drawers tie in with the European appliances – all sourced by Franke Cabinets.
These natural finishes and an open plan design matches exactly what the client requested and creates an atmosphere of warmth and comfort.
Related
Franke Cabinets Western Suburbs
Franke Cabinets Karrinyup 1
Location