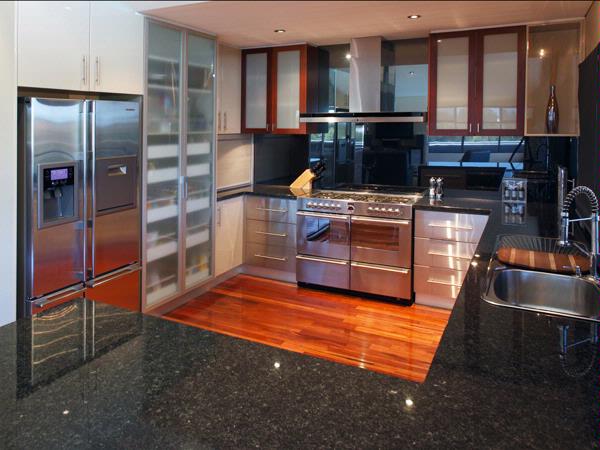 Franke Cabinets Karrinyup 1
Details
Description
When asked to add a sprinkling of entertaining spice to a young couple's kitchen, Franke Cabinets had just the recipe.
With space around the house rapidly becoming a finite frontier, homeowners are demanding more versatility and functionality than ever before.
At the same time, aesthetics are just as important as they have always been and more often than not, the kitchen is a home's centrepiece.
In this instance, Franke Cabinets needed to strike a delicate balance as the clients requested their kitchen be transformed into more than just a food preparation space, but also an entertainment area.
They wanted the kitchen to be both a showpiece and a place where guests could gather and enjoy a drink, while meals were being prepared.

Franke Cabinets achieved the desired result by opening up the kitchen to create plenty of space for people to enjoy each other's company.
Black marble benchtops add a touch of style and pizzazz to the area whilst the prominent use of steel and aluminium finishes gives the kitchen its modern, streamlined look.
Reflecting the owner's choice of karri floors, a similar wood finishing was used to complement the existing timber.
The latest hardware products and high quality fixtures were chosen to complete the project and ensure the kitchen fits into the lifestyle of its young, trendy owners and vice versa.

Related
Franke Cabinets Western Suburbs
Franke Cabinets Karrinyup 2
Location