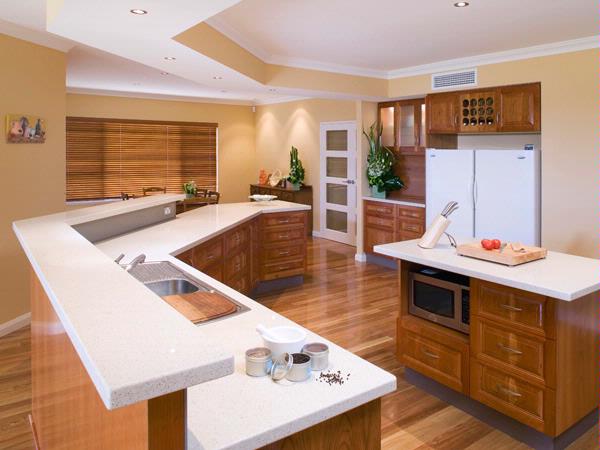 F&R Classic Cabinets 2009
Details
Description
Aesthetically traditional and functionally modern, this kitchen provides the utmost storage space while providing a welcoming space for the homeowners and their guests.
F&R Classic Cabinets was enlisted by its client to create a functional kitchen that exuded warmth. Efficient use of the space was imperative for the homeowners, who spend a lot of their time in the area.
The final product was to be a kitchen that was liveable, easy to clean and looked beautiful at the same time.

F&R Classic Cabinets selected a light timber with rich caramel colouring to create an inviting ambience for the client's kitchen. American Cherry cabinetry was installed, perfectly complementing the light timber floorboards
and biscuit-coloured walls.
The cabinetry was constructed with a large focus on drawers, which provide a far more efficient use of space than cupboards. To extend the space further, cabinets were installed beneath the central island with a gap for kitchen appliances. To save bench space, the household microwave was tucked into the opening.
To add further convenience to the client's lifestyle, F&R Classic Cabinets installed a kitchenette that doubles as a bar in the home's upstairs area. The American Cherry timber and stainless steel theme is carried through. The area is ideal for entertaining with an oven, stove and plenty of storage space for glasses and serving platters.
Translucent glass doors have been installed into sections of both kitchens to vary the materials used and provide a modern feature against the traditional look of the timber.
Related
F&R Classic Cabinets Burns Beach
Location