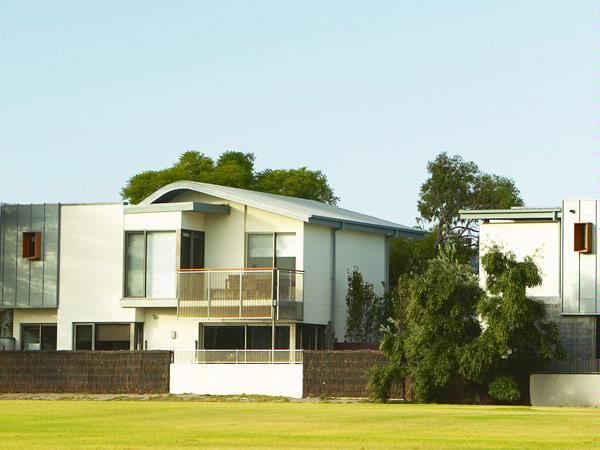 Wright Feldhusen Architects North Fremantle Home
Details
Description
This North Fremantle home achieves a balance between striking design and a unique site on the Swan River.

The brief was for three residences, with the owner to occupy the lot facing the river and the remaining lots to be sold. For the owner, it was essential that there be a visual and physical connection to the river.
The site has direct access to the Swan River, and is bounded by park and playing fields. Being in North Fremantle, the residences had to be integrated into the suburb's eclectic mix of worker's cottages, warehouses and riverside boatsheds.

To keep the residence in tune with the suburb's buildings, a mix of curved standing seam zinc roofs, off-form concrete and rendered brickwork in articulated forms was used.
As the site is next to playing fields and a park, it was critical that this be taken into account.The outdoor entertaining area's rolling grass lawn seamlessly extends to the public grassed riverbank.
As three residences were built on the site, it was critical that each be different, yet work together as a group.
A significant double volume living area houses the client's eclectic mix of furniture and paintings, adding to the residence's unique appeal.
Curved glue-laminated jarrah beams support the roof space, the design reminiscent of an upturned boat hull.This clever design ties the home back to the river surrounds without being obvious.
One end of the living space terminates in full height glass, which shows off the spectacular river views.
Internally the home focuses on the detail – mixing raw and stained timber, concrete and stucco.
Extensive use of external blinds to block sun before it reaches permeable surfaces helps the building to remain cool.The residence also uses passive solar principles and cross ventilation to assist with minimising the need for powered cooling.
Construction materials were chosen for their good aging ability, which reduces the need for maintenance.
Materials used internally such as timber and rough concrete give textural contrast, as well as giving the owner's eclectic mix of artwork to stand out.
Overall the project succeeds in balancing site, client needs, sustainability and interesting design.
Related
Wright Feldhusen Architects Yallingup Home
Wright Feldhusen Architects Injidup Home
Location