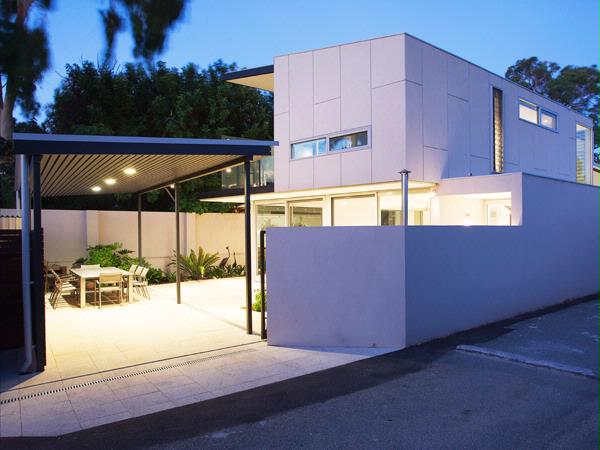 Robert Andary Architecture Shenton Park Home
Details
Description
From the street, this Shenton Park residence looks just like any other 1940s, single-fronted, single-storey home on the street – deliberately understated. Bounded by laneways to the west and the south, the 413sqm site seems a classic example of inner suburbia.
Designed by Robert Andary Architecture and constructed by Nuspace Developments, the existing brick-and-tile facade has been updated and simplified to maintain a symmetry that cements the classic, centred corridor of federation-style homes. However, all is not as it seems.
Upon entry to the house, the eye is drawn through the space to the outdoor pavilion's timber screen, which contrasts against the home's white interior. Light filters through the space, focusing on the floating steel-and-timber staircase and double-height void, which reveals the upper level.
Cantilevering over the ground floor living space, this level features operable glass louvres, which draw in the cool air and expel the warm air through high-level windows to the north. The first floor corridor mimics that of the ground floor, creating a continuous spine, seamlessly connected by recycled jarrah floorboards and staircase treads.
Downstairs, the sharp angles of the living space maximise the northern aspect and provide visual depth. Polished concrete covers the floor and wraps effortlessly over the kitchen's island bench, giving an air of sophisticated simplicity.
Neutral tones allow the existing brickwork to maintain its identity, while the recessed, double-height glazing punctures the transition between old and new.
Designed with environmental sustainability in mind, the home features heavy insulation, extensive glazing, a grey-water recycling system and two 3500-litre underground rainwater tanks. While it fits perfectly with the other character homes on the street, this residence represents the way of the future.
Related
Robert Andary Architecture Melville Home
Location