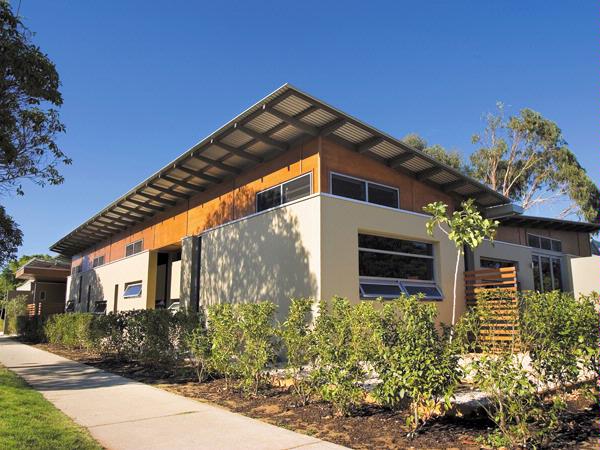 Paradigm Architects Mosman Park Home
Details
Description
Paradigm Architects used contemporary Australian architecture and thermal design principles to design this Mosman Park abode.

The owners wanted a residence which was appropriate to the corner site and incorporated passive thermal design principles.The design was required to provide a strong connection between internal and external spaces to accommodate the owner's desire to enjoy outdoor living throughout the year. The residence, which is surrounded on three sides by streets and a ROW needed to address issues of noise and privacy.The residence was also required to accommodate a large number of artworks and objects collected from several years living overseas.

Making the most of passive thermal design principles, there is no reliance on air-conditioning. Breezes, ceiling fans and solar exclusion cool the residence in summer. Shaded and insulated timber frame walls with plywood external cladding
are used on the north and west walls of the courtyard to further reduce heat loading.Thermal mass is provided through the use of polished concrete floors throughout the main living and circulation spaces.
The house is built around a central courtyard to maximise access to northerly sun to internal and external living spaces while providing privacy from surrounding streets. When the deciduous trees in the courtyard mature, they will give more
shade to the west elevation during summer, while the external east elevation is shaded by existing street trees and screen planting along the boundary.
In cooler months, the house will rely on good insulation and solar penetration to the concrete slab to provide passive warming. A fireplace in the open plan living space provides a supplementary form of heating to the area.
Whilst rendered brick has been provided to external elevations, the majority of walls and roof construction is fabricated using sustainably resourced timber framing. External walls are clad with clear finish exterior grade plywood which provides a warm and natural feel, and also helps insulate the house.
Related
Paradigm Architects Margaret River Home
Paradigm Architects Kalamunda
Location
Address: Unit 2, 55 Salvado Road,Subiaco,WA,6008
Phone: (08) 9388 1644
Email: [email protected]