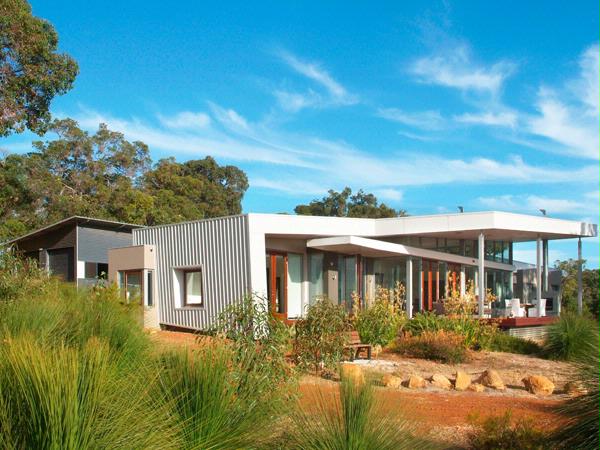 Hillam Architects Quindalup Home
Details
Description
Located in Quindalup, near Yallingup, this home is perched on an eastern-oriented slope with stunning views of Geographe Bay. While the view was the design's focus, a link to the surrounding bushland was also important. As a result, framed views from within the residence were established away from the main vista to take advantage of the natural environment, reinforcing the 'bush' setting.
The position of the house, which was dictated by those all-important views, called for careful consideration when it came to environmental efficiency and solar heat loads. An extensive roof overhang provided protection to both the exposed, east-facing windows as well as an external deck. Existing trees provided supplementary shading to the eastern and western facades.
In another energy-efficient measure, cross ventilation was achieved thanks to the home's linear design, high ceilings, louvres and operable windows. These factors, when all combined with effective insulation, also negated the need for air conditioning.
During winter, double-glazed windows provide effective heat retention while internal heating is generated by slow-combustion fires.
Internally, the home was required to accommodate a growing family and visiting friends. It was divided into three zones – a main living area, a master bedroom suite and a minor bedrooms and utility area. The garage, which houses a gym and office, is located to the west.
The design combines a mix of natural and refined materials, including timber, exposed metal work and rendered walls, to complement the surrounding environment. With its low-pitched roof and warm colours, the home has a contemporary aesthetic which blends with the landscape.
Related
Hillam Architects Mullaloo Home
Hillam Architects Dalkeith
Location