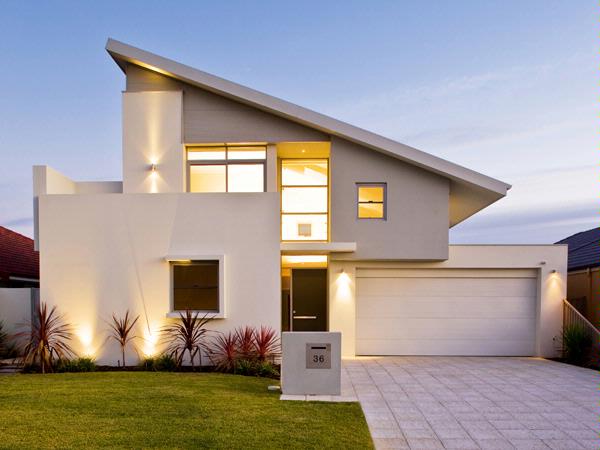 Details
Description
With a skillion pitched roof and striking, straight lines, this inspired home makes its mark on the streetscape in triumphant style.
The clients – a young couple with a child – wanted a double storey home that was centred on open plan living. They requested four bedrooms and a study, and that the living, dining and kitchen spaces be open plan with a warm family feel.
On top of catering for their needs internally, the clients wanted a home that had street presence and wasn't overshadowed by the surrounding, large double storey properties in the vicinity.
The home is part of a subdivision so Sam Teoh Architects had to adhere to building covenants and regulations, while working within the clients' budget.

After reviewing concepts with the Sam Teoh Architects team, the clients loved the idea of a home with a skillion roof. The angular, yet simple and clean lines of the home provide a sculptural street presence that stands out, rather than
being overshadowed by surrounding homes.
A courtyard was placed in the middle of the home, providing natural light and protection from weather conditions. During the winter, north sun penetration bestows light and warmth on the living room and morning light filters into the kitchen and breakfast area from the east. The courtyard also protects the home from strong southwesterly winds in the afternoon, particularly during winter.
The kitchen is ideal for family time, with a central island bench providing plenty of space to prepare meals, eat breakfast or for guests to have a drink while the owners prepare a meal. As the edge of the island bench juts out
with no cabinets beneath, further bench space is provided without the bench overtaking the entire kitchen. This contemporary look for the island bench also makes the kitchen appear larger.
The kitchen and dining area connects with the courtyard with large sliding doors, featuring floor to ceiling glass, separating the two. While entertaining, this allows the host to easily merge with the guests while preparing food and drinks.
Related
Sam Teoh Architects Subiaco Home
Sam Teoh Architects North Perth Home 2
Sam Teoh Architects North Perth Home
Sam Teoh Architects Highgate Home
Location