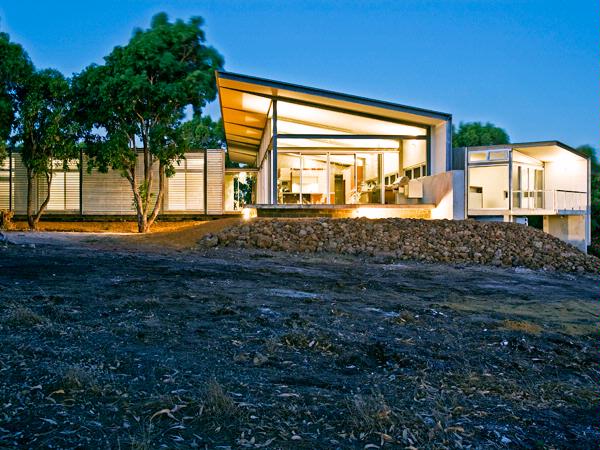 An important aspect of the Craig Steere Architects design ethos is an interest in creating timeless, functional and engaging architecture.
Details
Description
This contemporary version of the classic Australian, corrugated iron bush home was designed by Craig Steere Architects and constructed by Denis Poor Building Services to respond to the natural qualities of the four-hectare Redgate site, just west of Witchcliffe.
The home is carefully located within a natural clearing on the site, which is characterised by rocky limestone outcrops and dense bushland. Fortunately, the clearing is well elevated, allowing views across across the valley and down towards the ocean.
Easy living, low maintenance and environmental sustainability were the design's influencing factors, as was retaining a sense of living within the trees.
A subtle and raw palette of materials has been used on the home's facade, balancing aesthetics with durability. Colour tones reflect the rugged coastal bush setting.
The large overhanging Colorbond roof on the western side of the house provides shelter to the outside deck and internal spaces beyond, while galvanised steel screens keep the harsh afternoon sun and strong sea breeze at bay.
Inside, the building evolves into three interconnecting wings. The main living spine runs to the west, directing attention to views of Redgate Beach. At the same time, it orientates the open-plan living, dining and kitchen areas to the north to capture winter sunlight.
The main bedroom wing hovers above the natural sloping landscape, looking out over the sweeping valley and ocean escarpment. Windows in the master bedroom and linear slot windows in the wing hallways make the most of the views.
A combination of textures, colours and materials has been integrated both in and outside the home to address form and function.
The design has a strong focus on attaining natural light and ventilation, maximising rainwater harvesting and storage, and utilising energy-efficient appliances.
Related
Location
Address: 219 Onslow Road,Shenton Park,WA,6008
Phone: (08) 9380 4662
Email: [email protected]