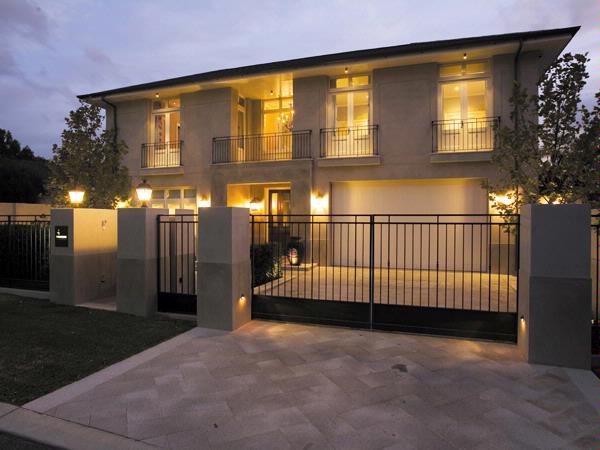 An important aspect of the Craig Steere Architects design ethos is an interest in creating timeless, functional and engaging architecture.
Details
Description
Contemporary living is coloured with the informal warmth of Italian style in this opulent family home.
The client was inspired by Tuscan-style architecture and wanted a contemporary interpretation of a European villa. An open-plan living, dining and kitchen area was requested. A selection of different zones was required for the varying needs of the family, including a children's activity room, gym, large library/home office, large garage and a lap pool. Enthusiastic entertainers, the owners also wanted a covered outdoor dining space with a barbecue and pizza oven.
Craig Steere Architects reinterpreted the villa style and added a healthy dose of modern panache to give the overall effect of a warm, friendly home with underlying elegance.
The proportions, character, courtyards and relaxed living all lend themselves to the villa architecture.
Open-plan living is at its best on the ground floor, with the option to link the kitchen, dining and living areas, the children's activity room and the alfresco entertaining area.
Sliding glass screens can be used to separate the children's area, which is handy for noise control and controlling heating and cooling.
The internal walls are full of character, embracing colours and techniques that are reminiscent of Mediterranean trends. Limewash paints have been used throughout the ground floor hallways and walls have been left slightly unfinished, missing the hard wall plaster and in the process conjuring up a wonderful, welcoming vibe.
Aubergine walls in the master bedroom upstairs create a sense of intimacy and pose an interesting contrast to the refreshing mint hue elsewhere on the upper level.
A little piece of Italy has been injected into the home via imported Italian wrought iron chandeliers. These antique pieces add to the subtle detail congruent with the villa style.
Despite the internal eye-catching details, the star of the show is the 33.3m lap pool which wraps around one side of the home.
Perfect for the fitness buff looking to notch up a kilometre or two, the pool also has an extra space at one end for children to play. The home was designed to make the pool a focal point, with an outdoor entertaining area looking over it and the indoor living areas with direct outlooks and glimpses of the pool.
A beautiful, existing plane tree by the pool at the rear of the property was retained as a natural privacy buffer and a stunning aspect of the garden.
Two more plane trees were planted in the front garden to complement the two-storey proportion and enhance privacy in the front rooms.
Related
Location
Address: 219 Onslow Road,Shenton Park,WA,6008
Phone: (08) 9380 4662
Email: [email protected]