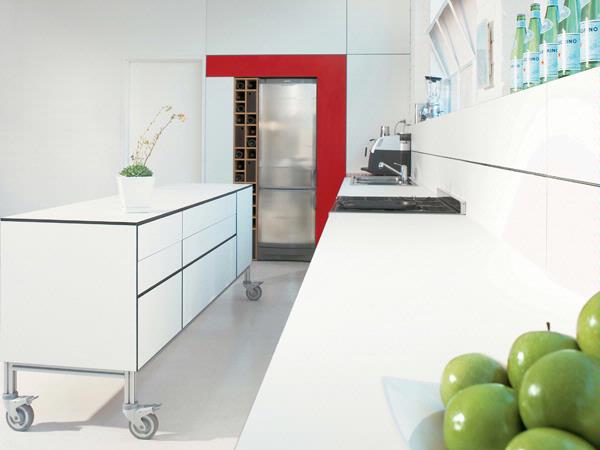 The Laminex Group 2008
With an extensive portfolio of quality brands, it's no surprise The Laminex Group is the market leader when it comes to premium decorative surfaces in both Australia and New Zealand.
Details
Commercial:Bathroom,Kitchens,Surfaces
Description
From the floor up, The Laminex Group offers a range of fashionable yet functional surface solutions suitable for commercial applications that are environmentally considerate. The range includes: Formica Flooring (8mm & 12mm), Compact Laminates and Partitioning Systems. Forming part of The Laminex Group Green first range, these products offer style, durability and the latest in design technology while maintaining good environmental practices, and in many instances, the 'Good Environmental Choice Australia' label.
Conscious of the trend towards natural-look flooring, Formica Flooring is a floating system that delivers the look and feel of traditional timber while being extremely resistant to wear, scratches and stains. It incorporates surface grain embossing and arange of various finishes which work to create a third dimension, adding depth and definition.
A selection of the range also features V-Groove detailing for an extra level of realism. The unique Forma-Lock locking system locks the panels together, offering quick and easy installation minus the glue, and the strongest join of any system in the world.
Unlike other laminate flooring, the Formica Flooring Commercial Collection allows seamless coverage for up to 300sqm, avoiding the presence of a central expansion joint within the body of the floor. Bearing the Good Environmental Choice Australia Markand backed by aminimum seven-year warranty, Formica Flooring is ideal for sensitive commercial areas both large and small.
To complement the flooring, The Laminex Group offer a variety of Compact Laminates ideal for shelving, benches, cabinets and tables in high-use commercial areas that also form part of the Greenfirst range.
Made from strong, self-supporting and moisture resistant decorative panels, the Laminex Compact Laminate Range can be used in both vertical and horizontal applications and is highly resistant to scratches, wear, chemicals and impact. Available in two colour ranges, 'Multipurpose Compact Laminates' incorporate 24 colours from the Laminex Colour Palette while 'Innovations Compact Laminates' add a further six metallic colours to the collection.
Stepping into the bathroom, the Laminex Partitioning Systems offer an environmentally conscious, simple solution to toilet and shower partitions in commercial settings. These partitioning systems are highly considerate of the diverse range of bathroom purposes, available in three different ranges for low to high use areas.
The Laminex Structural Partitioning System offers an economical solution for low-use dry areas, such as retail centre toilets. The Laminex Multipurpose Partitioning System is designed for wet and dry areas, including toilets and showers, while the Laminex Innovations Partitioning System offers the ultimate in strength, durability and finish for any bathroom area, including those regularly hosed for cleaning.
The Laminex range of Partitioning Systems comes ready to install with everything you need from the panels through to the tool kit – it's the green solution with ease.
Related
Location