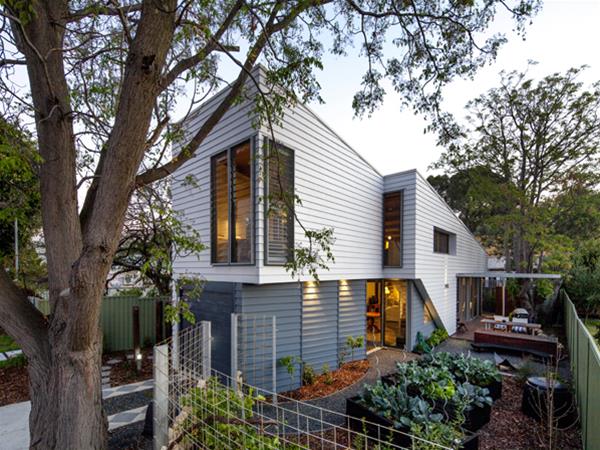 A small home build using the very best in sustainable and eco friendly technologies by Mountford Architects
Details
Bathroom Design:Small
Bathroom Design Type:Interior Design,Modern,New Home,Sustainable
Home Design Style:Modern
Home Design Type:Interior Design,Modern,Multi-Storey,New Home,Sustainable
Kitchen Design:Small,New Home
Landscape Design Type:Courtyards
Description
Designed and built for an owner who wanted a small home that made the most of light and space, this steel and timber framed project employed efficient design and construction techniques to provide open plan living over two levels.

The upstairs bedroom, bathroom and study have deliberately been designed to take advantage of the views of the trees on the block while a downstairs bedroom and bathroom have been designed with the owners eventual ageing in mind.

The high ceilinged living space opens directly to the north and uses cross ventilation, thermal massing and sun shading devices to achieve desired levels of thermal comfort. When completed the home will be a distinctive addition to the streetscape.
Related
Success Crescent Residence
Paddington Street Residence
Location