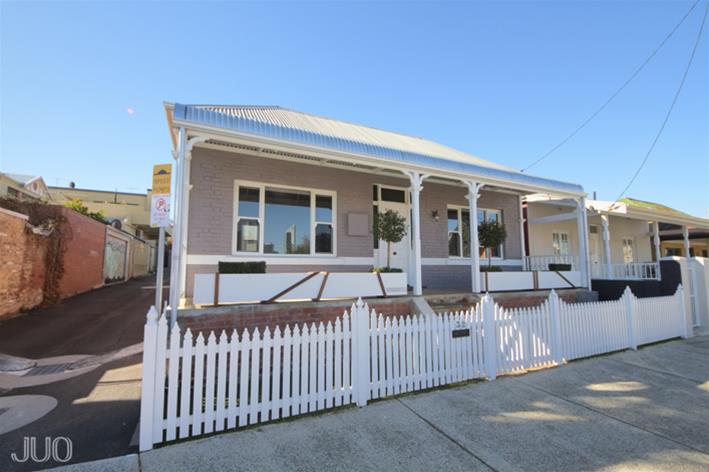 restoration + Perth + $130,000 + 82m2 + 2010 + Full design service
Details
Bathroom Design:Modern,Traditional
Bathroom Design Type:Federation,Interior Design,Modern,Renovation,Single Storey,Traditional
Home Design Block Size:300m to 500m
Home Design Style:Federation,Heritage,Modern,Traditional
Home Design Type:Interior Design,Modern,Renovation,Single Storey
Description
With sweeping views of the Perth skyline, this rundown and uninhabitable 1913 cottage had been poorly maintained over the years, with many haphazard and structurally unsound additions. The brief was to strip back the property to reveal the original cottage and celebrate its character and proportions.
Timber framed windows with custom sash horns to match the existing windows to the rear of the house replaced the non-original aluminium windows and the front facade was painted as the original tuck pointed brickwork had been poorly modified over the years. A rendered sill and rendered band was introduced to define the window openings and tie in with the white woodwork of the reinstated bullnose verandah. The street frontage was opened up with a low height picket fence to promote a visual and social connection with the street.

Internally a fresh approach was taken to re-purpose the existing worker's cottage without detracting from its originality. The original jarrah floorboards were exposed, sanded and polished; the missing skirting boards were reinstated; cornices and ceiling roses were added to every room to replace the non-original ceiling features and were selected to suit the proportions of each room; and a full electrical re-wire was fitted off with traditional light fittings, switches and power outlets mounted on blocks. Two out of three of the original fireplaces were still intact, whilst the third was transformed into bespoke bathroom storage. The only room that required additional fixtures was the ensuite bathroom, utilising subway tiles, bevelled mirrors and heritage styled bathroom fixtures to create a classically symmetrical living bathroom.

In contrast, new multipurpose Corian planter boxes also act as seats and balustrading to the front verandah, providing a glimpse of the contemporary additions to come.
Related
Kingsway Gardens Apartment
Location