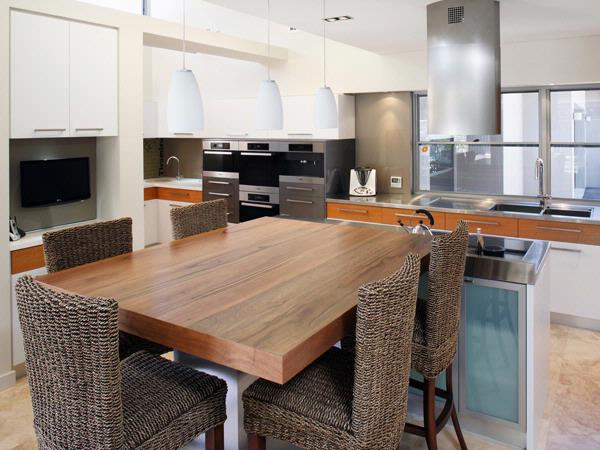 Details
Description
The client envisaged a contemporary kitchen, where any cook – from beginner to master chef – would feel at home. While the space was designed by LHDK Perth, Amanda Margetts and the clients, Ikal Kitchens used a combination of materials, textures and finishes to bring it to life.
The cabinets feature both Metallic Charcoal Grey high-gloss lacquer and White On White textured lacquer, while the drawers and some of the overhead cabinets are in natural Silky Oak timber veneer. Other overheads feature aluminium-framed doors and all have a tilt-up action for ease of operation.
The natural solid marri veneer breakfast bar is as functional as it is striking, while the stainless steel and Staron Solid Surface workstations add a contemporary edge.
A splashback printed with English, French and Italian culinary terms gives the kitchen character.
State-of-the-art appliances have been neatly arranged on one wall and are surrounded by sleek Metallic Grey Charcoal drawers, creating easy access and fully utilising the space.
As a result of clever design and Ikal Kitchens' quality workmanship, this contemporary kitchen is just as pleasurable to cook in, as it is to look at.
Location