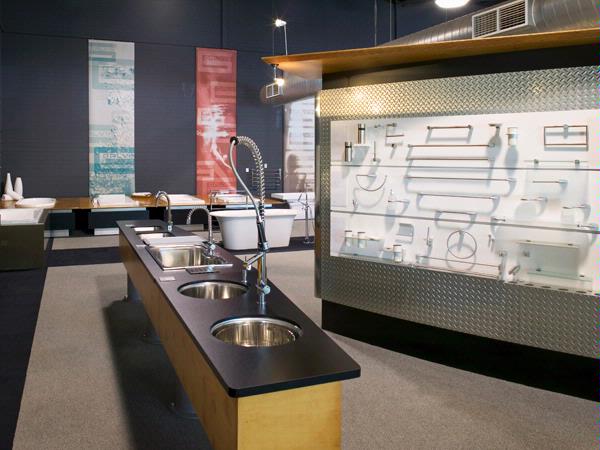 Galvin Design Gallery 2008
Details
Commercial:Basins,Bathroom,Baths,Doors,Kitchens,Mixers,Sinks,Tapware,Toilet Suites
Description
With Nea it's easy to imagine the ease of bathroom design and selection with a ready to hang concept already styled for you. Nea furniture and accessories reflect Italian high quality and the latest in European bathroom design trends. All products are designed and manufactured in Italy. Nea caters for the apartment, renovation and housing market offering clean, modern lines incorporated with high quality materials and finishes. The Nea range is simplicity and elegance reinvented, a concept of space and design that would be at home in any bathroom. Exclusive to Galvin Design, checkout the Sagome concept shown in ash veneer. Also available in veneered oak, multilayered okume and lacquered mdf in various colours.
CaesarStone is the original quartz surface in the market. This superior and stylish bench top material uses around 95% natural quartz and is perfect for kitchens, bathrooms, table tops and commercial interiors. CaesarStone is renowned for its durability, low maintenance and comes with a 10 year limited warranty. It's non-porous surface makes it highly resistant to absorbing liquids and repelling stains. It's also highly resistant to scratching, heat and chipping making it a practical luxury. Unlike many natural stones it will never require sealing and consistently holds its stunning fresh look with very minimal maintenance. CaesarStone is available in many different varieties, textures and finishes. There are 35 colours available in Western Australia with prices from $450 per lineal metre supplied and installed.
Akril acrylic wall paneling is ideal for splashbacks, shower sand wall linings. Very durable, it's available in a range of designer colours to suit any scheme. Akril is a great alternative to traditional glass applications because it's a lightweight product that allows for ease in transportation and installation that doesn't compromise in looks. The sheet sizes are in dimensions 2400 x 1200mm. The Frost Arki range of handles is in the newest lines from Denmark with a variety of styles available in both polished and brushed nickel. Frost's high quality range boasts all finishing accessories, from cupboard handles to magazine racks.
Location