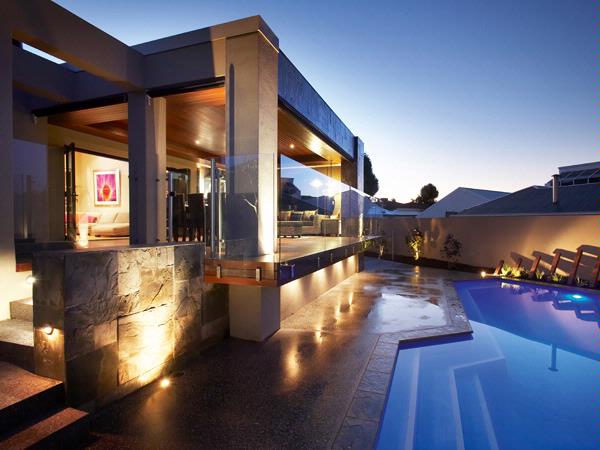 Details
Description
This home needed a fresh face and new environment to suit the owner's growing family and desire for a contemporary look.

Arc seven.1's clients were a middle-aged couple with grown up children who built their home 17 years ago. During this time, the family's needs changed – from active boys to young men with families of their own.
The home was looking tired and in need of a revamp to bring it from the 90s into a stylish, contemporary home. The exterior of the home in particular required a significant overhaul.
As their family grew, the clients required a larger external entertaining space with a greater connection to the pool area. An outdoor kitchen, which was protected from the elements, was a must for entertaining area all year round.

The primary focus was to design a seamless extension between old, new, inside and out, while generating a form that would introduce a new lifestyle for the clients.
Arc seven.1 used four of the five senses – sight, sound, smell and touch – as inspiration for this renovated, tranquil space.
The existing home was bland in its colouring and material selection. To offset the cream colour palette, arc seven.1 introduced materials that would generate the feel of a five star resort. For this relaxed environment, western red cedar, batu, slate, copper, onyx and rust were used.
The pool area originally sat one metre below the house and outdoor living area, alienating it from these spaces. The existing alfresco space was extended to incorporate a dining and sitting area, while glass balustrading was added to minimise the visual barrier overlooking the pool.
A walled section was added to one side, which allowed the room to be weatherproofed and furnished. A round window was recessed into the wall, inspired by a round motif that was located on the existing front portico, removed during the refurbishment.
To add further interest to the home, which is largely geometric in form, a curved water feature and sculpture were added to the angled rear boundary.
The sculpture is made up of angled columns and designed in a half bowl form which creates a visual connection between the alfresco and the lower pool area.
A back-lit sheet of onyx was added as the centrally defining feature that could be enjoyed from all areas of the home and garden.
The front façade also received a stunning overhaul to remain consistent with the rear styling. Floating piers were included to act as a screen between the driveway and garden as well as connecting the portico to the street. The existing round portico piers were clad in slate and squared off, lifting the roof, to better address the street.
The end result was a home that won both the state and national Building Designers Association award for the best renovation under $200,000.
Related
Location