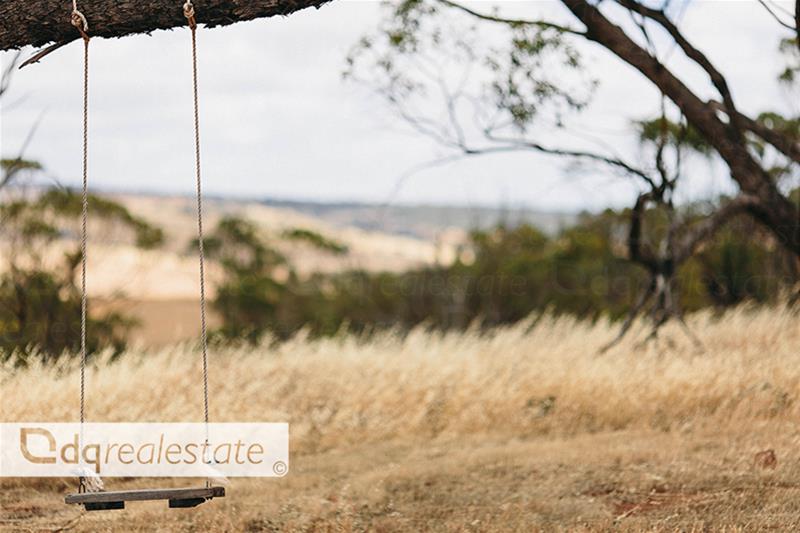 The rarest offering amongst the colourful patchwork of the Avon Valley ACCESS RESTRICTED VIEWINGS BY APPOINTMENT ONLY - CONTACT AGENT
Details
Description
This unique sheep fenced property encompasses 34.4621 hectares with a mixture of sandy and loamy soil. The Estate offers a large range of accommodation facilities. The main residence is a 4 bedroom 2 bathrooms home comprising a total area of 295.42 m/2. There are 5 Cottages that could be let and 6 Chalets for shorter or longer term stays. The Conference centre can seat about 120 people and sleep around 60 with approximately 28 rooms. There is further a sports or basketball centre. 3, 1940's built dormitories, a dining hall, a recreation hut, multiple restrooms and other ancillary buildings. Recreational activities include a tennis court, volleyball court, swimming pool and 9 hole sand golf course.

The vistas from the lookout point to the North Eastern Corner are tremendous and the privacy is unrivalled. The landscape gently slopes down west to Spencersbrook Road where the slope levels out near the golf course and the Kangaroo enclosure. A little winter creek runs through the property.

For a comprehensive photo tour please visit our website

A REMARKABLE HISTORY:
Amongst the colourful patchwork of gently rolling hills where Spencersbrook Road meets the Avon River, lies the Springhill rural retreat. Once part of a much larger parcel of land under the original Crown grant in 1839. Sir William Thorley Loton, (1838-1924) a person of note, bought Springhill Farm, an Avon Valley icon, in 1881.
The Government acquired or resumed a portion of the land around 1943-1945. In 1944 Certificate of Title 1083-829 was created and the proprietor was the Commonwealth of Australia. The land was to be used as a military training area and ammunition depot. It appears there may have been a transfer of land from the U.S. Navy to the Australian Army in 1945. In 1989 the land was sold into private ownership what is today commonly referred to as the Springhill Rural Retreat and Avon Valley Conference Centre.
Currently owned and operated by an international organization, Springhill operates as a healing, recovery and learning centre for persons training in the Christian faith.
The property can house up to an estimated 178 persons, at full capacity.

LEGAL DESCRIPTION:
The Property is recorded as an Estate in Fee Simple on lot 1 Diagram 83001 Part Avon Location M with Certificate of Title Volume 2159 Folio 549.

Property Features
Main residence house: 249.07 m/2
Double garage: 39.42 m/2
5 Cottages
6 Cabins with inclusions
An auditorium and dining area
26 Accommodation rooms
Room 14 lounge room
Room 12 house manager's room
External patio
Conservatory or courtyard
Mens and ladies bathrooms
Laundry
Coffee/tea room
Fully-equipped kitchen
Pantry
Scullery
Store room
A basketball centre
Chemigem salt chlorinator pool
3 Dormitories
A former first aid hut
Tennis court
Volley-ball court
9 Hole golf course
Kangaroo enclosure
Workshop
Workshop ancillary accommodation
Old mess or dining hall
Old laundry and shower block
The Harris recreation hut
Shearing or storage shed
Metals storage shed
I Sewerage pump to sewerage lagoons
6 Sulo garbage bins
1 Incinerator in paddock
1 Bore to tank
1 Un-equipped bore
Kleenheat gas cylinder
Scheme drinking water
Several machinery and equipment as per Inventory Schedule

THE REGION:
Located 98km drive east of Perth; Northam is the perfect central base to explore Midland and the Avon Valley region. Springhill Rural Retreat is only approximately 8.5 kilometers from Northam.

Northam is the State's largest inland town and second in Western Australia only to Fremantle with the number of registered heritage buildings. Northam offers all your modern day amenities with supermarkets, pharmacies, hospitals, doctors, professional rooms and clothing stores. The area is famous for hot air ballooning and is home to El Caballo, Spanish Dancing horses and Rodeos.

Spencers Brook is particularly popular for the discerning traveller seeking to enjoy old-fashioned country cuisine and an icy cold brew.
For the keen cyclist or hiker there is the Kep Track between Northam and Mundaring. 'Kep' is the Noongar word for water.

Transport in Northam is highly accessible by both rail and road travel. Situated directly opposite the entrance of Spring Hill Rural Retreat is the Spring Hill bus stop. The Prospector is a modern train which makes multiple daily return trips between Northam and Perth on the Perth to Kalgoorlie route.

Built by sustenance labour, the Spring Hills bridge is on the Avon River about 1.6 kilometers from Spencer's Brook. The total length of the Avon/Swan river system is about 280km. The river was sighted by Ensign Robert Dale of the 63rd Regiment in August 1830 during one of his preliminary explorations eastwards of the Swan River settlement.

The Avon Valley is the perfect destination for a day trip, stretching from Brookton in the south to New Norcia in the north, with seven intriguing towns for you to explore; Beverley, Brookton, Goomalling, Northam, Toodyay, York & New Norcia.

THE BUILDINGS:
Reception Building
Located 98km east of Perth, Northam is the perfect central base to explore Midland and the Avon Valley region. Springhill Rural Retreat is only approximately 8.5 kilometres from Northam. Transport? in Northam is highly accessible by both rail and road travel. The entrance of Spring Hill Rural Retreat is directly opposite the Spring Hill bus stop.
A red gravel road leads you to the Reception, an original three bedroom, one bathroom cottage. The entrance is inviting with timber floorboards that stretch to the end of the passageway with a restroom and hand-wash basin. The meals area has been partitioned-off to create an office with a glass bay window. The kitchen and dining rooms are for communal staff use.

The Main Residence
The Main Residence is a spatial home built around 2003. The floorplan is that of an open plan design with white French doors to the dining and sitting area. There is an informal living, meals and games room that overlooks the rolling hills and opens through a glass sliding door to a sit out pergola. The home comprises of 4 bedrooms with ample walk in robes, a home office, computer area and linen storage. The wet areas comprise an ensuite, a family bathroom, laundry and powder room. The kitchen has ample preparation space, gloss white cabinetry, a corner pantry and quality built in appliances. Ducted evaporative cooling and gas bayonets for heating can temper the most unforgiving of climates and double garaging offers additional peace of mind.

Conference Facilities
The Conference Centre can seat approximately 120 people with an inlaid tiled dance floor should the room be used for a wedding or social function. It comes complete with conference equipment defined in the Inventory Schedule. The Conference Centre can sleep 60 people and consists of 26 rooms, a lounge room and a house manager's office. Partitioned dividers separate the room into a dining area for smaller events. Furthermore, there is an external patio area for guests to sit out to. The conservatory or courtyard is contained within the middle of the building and allows natural light to filter through the surrounding bedrooms. There are mens and ladies bathroom facilities and a communal laundry.

Commercial Kitchens
The Conference Centre kitchen caters for functions or weddings through serving windows that could also aide in setting up a buffet. Stainless steel appliances, gas cooktops, commercial fridges, a scullery and a large pantry are just some of the features on offer. For a detailed list of the appliances and equipment refer to the Inventory Schedule. There is a coffee or tea making room with a hospitality serving counter catering to guests seated in the internal or external dining areas. This room can also make a good general information booth with details about the local area or event being promoted whilst utilizing the Conference Centre.
The Mess Hall is one of the older buildings and comprises of a commercial kitchen, built in fridges, a scullery, wash up area and has a built in coolroom.

The Rental Cottages
There are five fenced off cottages that include a single detached garage with some storage facilities. The Cottages can be let out consisting of a 5 bedroom, 1 bathroom, a 3 bedroom, 1 bathroom, and a 2 bedroom, 1 bathroom. The Reception Building is an original 3 bedroom, 1 bathroom home and the fifth cottage is located to the north western corner of the property offering 2 bedrooms and 1 bathroom. Near the Conference Centre is the original first aid hut now used as a counselling room.
A former drinking shed has been partly converted to provide additional ancillary accommodation comprising a single room, open plan meals, mini kitchenette and ensuite with a little verandah overlooking the scenic inland views of the natural terrain.

Recreation
For recreation there is a basketball centre that can easily be used as an auditorium with seating for approximately 200 persons. It offers good storage along its peripheral walls.
The fibreglass swimming pool has been newly installed (2006). There is an existing pump shed, male and female change rooms and toilets. A 600m Kangaroo enclosure is home to a few locals and native wild life abounds with foxes, rabbits, lizards and other monitors. The rich birdlife includes Red Capped Robin's, Chats, Willy Wagtails, Rainbow Bee-eaters, Honeyeaters, Brown Song-Lark's, Australian Ringneck Parrots and Kookaburras, to name but a few. There is further a tennis court with a newly replaced shelter and a volley ball court, on the grounds.

The Dormitories
There are three dormitories believed to have been built in the 1940's on the property and they can sleep up to 60 persons. The Ladies Dorm has been converted to create 8 evaporative air-cooled rooms with a large lounge area where guests can enjoy to culminate around a Bushman fire place and a communal kitchenette. The second dormitory has five bulk sleeping rooms each with an electric wall heater and the remodelling of a former storage room to a kitchenette has begun. The third dormitory is mostly in its original condition. There is shower and toilet facilities in each dormitory with the Ladies Dormitory catering to the specific fascilities of gender. Behind the Dormitories is the old laundry with three external rotary clotheslines and an old shower block with toilet facilities.

The Cabins
There are six cabins constructed in approximately 2003 all in excellent condition with split system air conditioning, a television, a microwave, a small oil heater and mini bar fridge. The cabins can sleep up to 18 guests in total and feature a single bedroom configuration suited to a double ensemble. They feature a basic built in robe and linen cupboard with room enough for a dressing table. There is further an open plan kitchen meals and family area. The kitchen is fitted with an electric hot plate, grey-mottled laminate top and easy care vinyl floors. The bathroom is fitted with a single shower, Multiform basin, WC and each cabin has its own carport. The cabins provide excellent accommodation for short term or longer term stays with an acclaimed RAC rating of 3.5 Stars.

The Workshop
The Workshop is a large workroom with adjacent ancillary accommodation formerly used by bus drivers when groups were on camp. Comprising a lounge or second bedroom, internet connectivity, a kitchenette and restroom facilities.
Opposite the workshop is a 5 bay open front general purpose shed, adjacent a 4 bay trailer size open front shed, just opposite a 10 bay carport for visitors or guests. Nearer towards the middle of the carpark is a concrete wash down area with an external tap.
There is further an old shearing shed, disused Shearers' Accommodation hut and an ablutions block towards the north-eastern corner. Bundles of firewood have been prepared for the next function or corporate event.

The Harris Hut
The Cafe-Diner styled room, also known as the Harris hut comprise of 4 mounted tables and surrounding bar stools. The serving window to the kitchen area was designed capturing a 1950/60's Cafe' style mood and there is ample built in cupboards and fridge drawers to keep the beverages and inventory cool. There is a dartboard area in the open plan style with a sleepout veranda set up for table tennis. As the warm rays of sun set in, this room becomes the perfect place to relax and unwind to with a good book whilst enjoying inland views over the red earth, blue skies and natural bush. The central communal lounge room has a Bushman fireplace and a load through trap door for easy access to retrieve firewood. The games room makes a great place for a friendly round of pool.

INSPECTION ARRANGEMENTS:
Thank you for viewing this special property for sale, I trust you enjoyed viewing this properties profile. For further information on this property or discuss viewing times by appointment please contact me and we will endeavour to facilitate your requirements. I look forward to hearing from you.

DISCLAIMER:
The information provided is deemed to be correct but cannot be guaranteed.
Related
Location