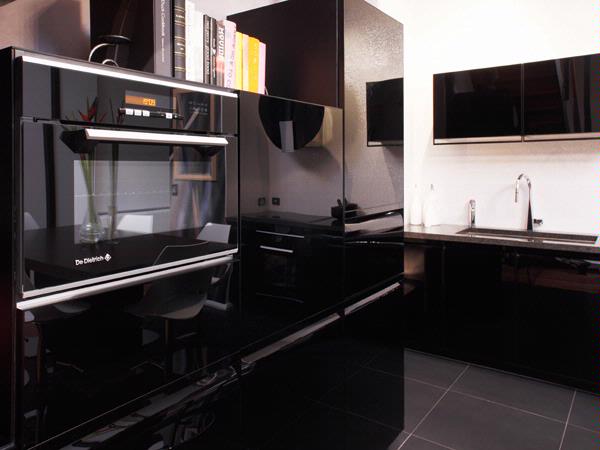 Details
Description
The owners of this Wellington Street apartment were every designer's dream in that their brief was open and self-explanatory – "make it look better".
As stylish, creative people, they were encouraging of a non-conventional kitchen – their only concern was the lack of space.
K&B Exclusive senior designers Geoff Leembruggen and Natasha Leembruggen pushed their creativity to the limit to create a kitchen, living and dining area all in one.
They started by removing the galley kitchen and running the fridge, pantry and microwave under the stairs, which is still part of the kitchen.
A veneer feature table, which adjusts to benchtop height at the touch of a button, is another space-saving solution, as is the dish rack, which has been installed into the wall cabinet next to the circular rangehood.
The wall behind the rangehood features textured gloss tiles, which pick up light refractions, causing a shimmering effect, while the almost mirror finish of the high-gloss acrylic cabinets – constructed in conjunction with Gruppo Del Tongo of Italy – make the room seem bigger.
Despite how functional this space is as a kitchen, K&B Exclusive has managed to make it look more like a living area containing upmarket pieces of furniture.
Related
K&B Exclusive Scarborough
Location