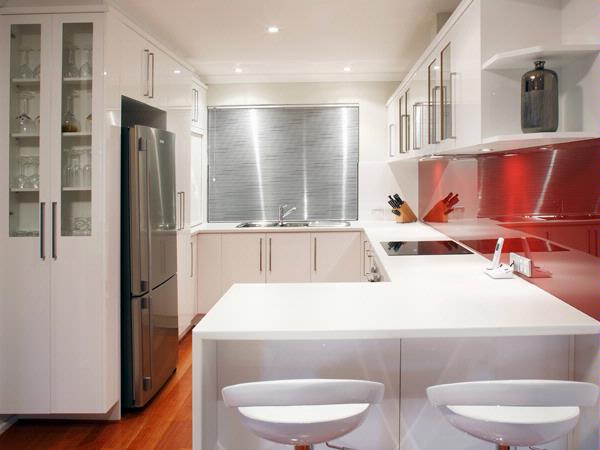 MCM Cabinet Makers Dianella
Details
Description
The owner favoured a minimalist style of kitchen and asked that it be modern and spacious with lots of storage. He was particularly keen to avoid the closed-in feeling that floor-to-ceiling cabinets can create.
Geoff Armstrong of MCM Cabinet Makers designed the kitchen in conjunction with the owner, and also took care of its construction. This entailed knocking out the bricked-in pantry and wall oven and repairing the ceiling.
While the cabinets are built to the ceiling on one side, Geoff purposely left a gap above the cabinets on the other side to make the space appear bigger than it really is.
A white colour scheme was chosen to create a minimalist yet spacious feel, while the owner's adventurous side is evident in the red splashback.
The owner was eager to display glasses and knick-knacks so Geoff interspersed the ultra-gloss Createc cabinets with glass-front doors.
The hardware is by renowned Austrian brand Blum and the silver handles tie the cupboards to the blinds, appliances and power points.
An appliance cupboard with roller shutter door was built for the microwave and while the owner doesn't have a dishwasher, a removable cabinet was constructed under the sink should he wish to install one in the future.
Related
MCM Cabinet Makers Doubleview
Location