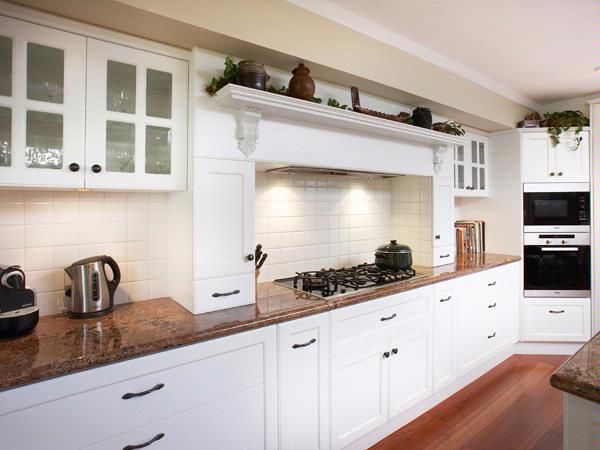 European Kitchen Studio Salter Point
Details
Description
This design incorporates a French provincial feel with all the conveniences of a modern kitchen.
The clients were moving into a new home in Salter Point and were looking for a kitchen that would work with the changing demands of a family.
The design brief required a kitchen that was highly functional yet full of character and warmth with a traditional feel. Plenty of storage space to keep the kitchen from looking cluttered was also requested.

The design evolved over a series of meetings until it was decided that a simplified version of the French provincial style would reflect the clients' wishes most appropriately. A feature area housing the canopy was decided upon as the focal point in the kitchen.
It was important to the clients that they had effective pantry and storage space. As a result the kitchen was designed with a large number of drawers enabling the client to maximize storage. Where smaller drawers were required internal drawers fitted with Orga-line dividers were supplied in two areas to enable cutlery, cooking utensils and preparation items to be stored effectively.
Ultimately the kitchen has a French provincial feel but with all the conveniences of interiors designed by the modern Blum brand.

Related
European Kitchen Studio Nedlands
European Kitchen Studio Claremont
European Kitchen Studio Attadale
Location
Address: Unit 2, 55 Crocker Drive,Malaga,WA,6090
Phone: (08) 9248 6868
Email: [email protected]