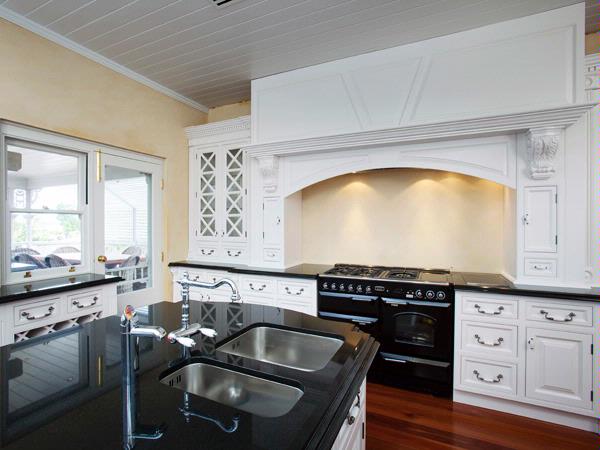 European Kitchen Studio Attadale
Details
Description
The owners desired a new kitchen that combined traditional features with modern functionality.
The kitchen was to be enjoyable to cook in, fit well with the new appliances and blend seamlessly with the beautiful Federation style of the home. Aside from that, European Kitchen Studio was given the freedom to develop its own design aesthetic.
While Dawn Metcalfe provided the original concept for the design, Gordon Williams (CKD) completed the technical design for manufacture. Both designers have more than 20 years' experience in kitchen design.
A classic face frame construction taken from the Traditional Bespoke Collection, this design features a curved mantle with hand-carved corbels to set off the kitchen's focal point.
The mantle is framed by glass display cabinets with a fluted pilaster surround, while banks of drawers on either side of the 1100mm-wide stove are framed by vase-turned posts.
Antique porcelain handles complement the detailed Whitehouse satin lacquered doors, while an elegant frieze and dentil cornice crowns the top of the cabinets, emphasising the high ceilings.
The stunning island centrepiece features detailed end panels and matching hand-carved corbels.
Clever panelling integrated the fridges into the cabinets below the TV, while the dishwasher and bin were integrated into the island cabinets.
Blum Tandem inner drawers and modern appliances make this kitchen functional, while preserving its traditional ambience.
Related
European Kitchen Studio Salter Point
European Kitchen Studio Nedlands
European Kitchen Studio Claremont
Location
Address: Unit 2, 55 Crocker Drive,Malaga,WA,6090
Phone: (08) 9248 6868
Email: [email protected]