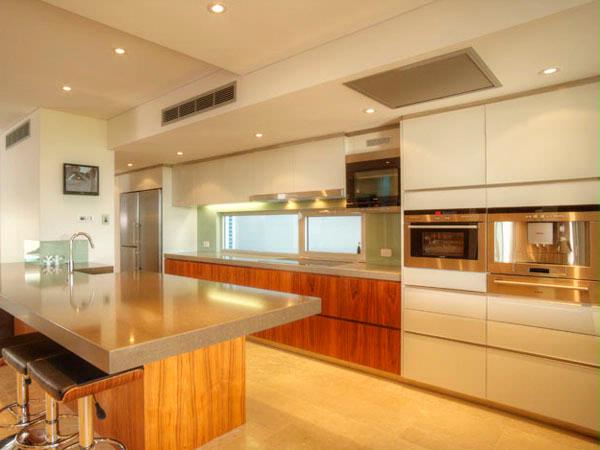 Chindarsi Architects South Perth
Details
Description
Following the completion of their Chindarsi Architects-designed commercial facility in Canning Vale, the owners of this riverside property enlisted the practice to design their new family home.
The brief detailed separate living spaces for the couple's two children, accommodation for guests and an office with views. The owners also requested that there be a spacious family room, good outdoor living spaces, a home theatre, gym facilities and a cellar.
The home needed to maximise the city and river views, while incorporating energy-efficient principles. C-Bus integration and a lift were also to be implemented into the design.
Situated on a busy main road, the 659sqm site features a three-metre slope upwards from the front of the property to the rear boundary, making it ideal for a tri-level, undercroft design.
The site's openness was the inspiration behind a 'framing tube', which captures the views. Lifted off the ground, this framing element also provides a transparent link between the foreshore and the rear courtyard, which creates the illusion of one garden space.
This transparency through the house is further accentuated by the double-height entry space, which contains the stairs and separates the home's two elements – the framing tube and the upturned 'boat-hull' roof, which alludes to the home's riverside location.
To combat noise and heat, double-glazed, thermally broken door and window frames were used throughout. Brise soleil window boxes protect window openings on the east facade, and overhangs project over north-facing windows, while southern windows have vertical screening.
The extensive use of natural stone, zinc and timber throughout the home give it a warm, relaxed and inviting feel, as well as a timeless elegance.
Location