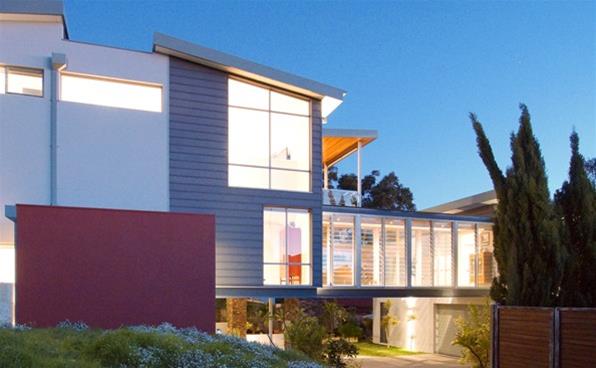 Middleton Homes in Fremantle
Middleton Homes and award-winning designer, Peter Fryer, collaborate on this inspiring and innovative home.
Details
Home Design Block Size:300m to 500m
Home Design Style:Coastal,Modern
Home Design Type:Custom Built Home,Design and Construction Services,Interior Design,Modern,Multi-Storey,New Home,Urban Design
Description
Our Clients had one major obstacle when creating their dream home: A sewer easement no-build zone straight up the centre of their block. Luckily, designer, Peter Fryer, came up with an inspired solution:
Split the house into two wings connected by a glass bridge.
The result is this truly remarkable residence. The 3-storey wing is the Clients' main living area, containing the Master Bed, an Ensuite with a gigantic freestanding bath, an enormous modern Kitchen and a timber lined Balcony with views over Fremantle. The 2-storey wing contains a triple Garage and Studio apartment with its own Kitchen and Ensuite.
Externally, the mix of traditional stone and timber cladding with bold geometric angles, creates an elevation that is both boldly modern and in keeping with Fremantle's rich heritage.
Related
Middleton Homes in Yallingup
Middleton Homes in Victoria Park
Middleton Homes in Mariners Cove
Middleton Homes in Gooseberry Hill
Location