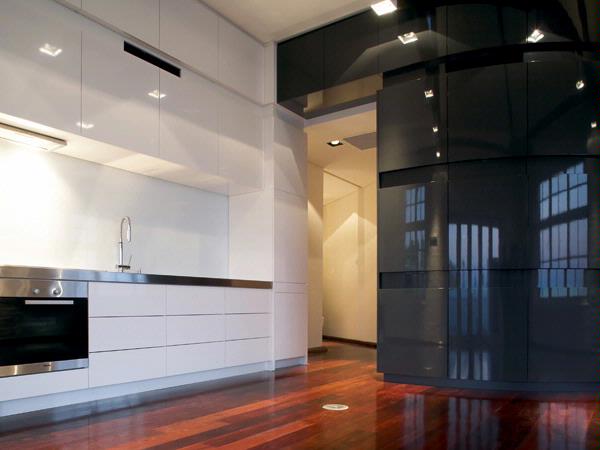 Brooking Design Practice Fremantle Apartment
Details
Description
Winner of the Best of State of Residential Interior Design Award (WA) at the national 2009 Interior Design Awards and the Laminex Award of Excellence at the 2008 DIA (WA) Awards, this heritage-listed, cutting-edge loft cleverly mixes the old with the new.
The brief was to create a dynamic, contemporary living space within the existing warehouse, where specific heritage limitations were at the forefront of the design concept – it was important that the existing building fabric was not compromised.
The warehouse was transformed into a residential loft, first and foremost through the insertion of a striking central core. Serving as the engine room of the space, the core creates a theatrical backdrop and conceals a staircase to the mezzanine level, which houses two bedrooms and an ensuite.
It also cleverly divides the space, creating a sense of intimacy, and provides functionality, housing the study desk, LCD television, pantry, laundry and additional storage spaces, eliminating any visual clutter.
To create an even more spacious feel, natural light was introduced with the addition of glazing punctuations. These remain private thanks to the use of frosted glass and cabinetry, which also divide the space.
The raw bricks of the existing shell were painted white, while the central core unit is in a deep, glossy charcoal, allowing the distinction between the existing space and the new insertion to be amplified.
Existing timber trusses were restored to expose their raw state, and were further accentuated by lighting, adding drama to the overall space.
The contrasting material selections reinforce the 'new versus old' ethos that characterises the space, while the design demonstrates how an existing space, which may have appeared to have had its day, can be transformed into something beautiful and functional.
Location