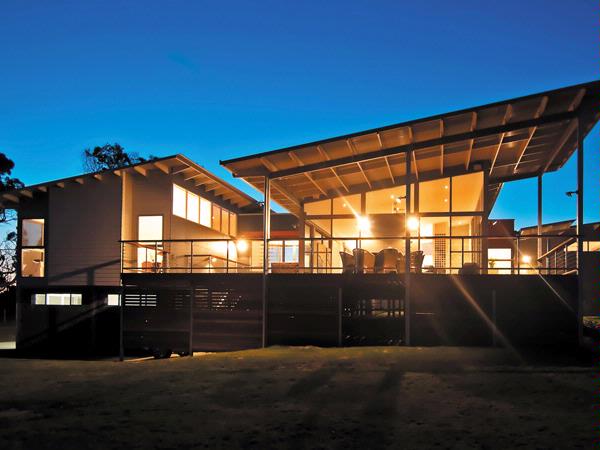 Concept Building Design Albany Home
Details
Description
Robert Forgione is the designer of Albany's first purpose-built lifestyle home that features natural materials inside and out.Robert and Nicole Forgione wanted to live in a house where it felt like they were always on holidays.
The design had to be solar passive and sustainable, offering year-round temperature comfort with minimal heating and cooling costs.
A variety of outside areas were required to allow entertaining during various seasons and a mixture of materials had to be used both internally and externally.
The house was designed around three different external alfresco areas with the main floor plan consisting of three separate wings joined by glass walkways.
The house was designed to protect living areas against the harsh summer sun while taking advantage of the northern sun. Glass was used for the walkways so the northern sun would be captured in all rooms.
The tropical and commercial influenced design is modern with simple rooflines. Retro style is incorporated through the use of galvanised and stainless steel plus glass products.
Insulation was installed in the floor, walls and ceiling of the home to help control the temperature, while high windows in some of the rooms reduce heat transfer without sacrificing natural light.
A blend of natural and artificial stone is used throughout the house. In the main living area the dominant feature wall of rough Ebony stone complements the use of stone on the exterior of the house.
The wet areas continue the stone theme with the master bedroom showcasing a mix of Archistone and porcelain.
The kitchen is fitted with copious amounts of cupboard and bench space and a breakfast bar offers a casual eating space away from the living area.
The fireplace in the living area is not only a focal point for the room but also discretely separates the open-plan living space and kitchen.
Related
Concept Building Design Green Pod
Location
Address: 285 Lord Street,East Perth,WA,6000
Phone: (08) 6467 4500
Email: [email protected]