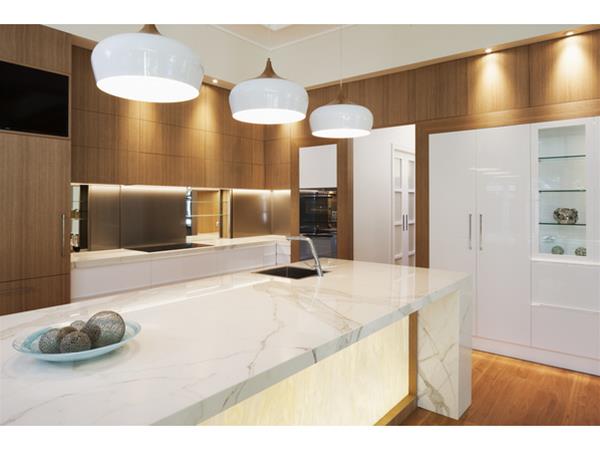 The definition of a luxury home doesn't necessarily translate to double-storey. Paul Meschiati and Associates have proven single-storey homes have just as much charm.
Details
Description
This Dalkeith home is positioned on two adjoining lots, and covers some 900sqm. There were many large established trees, which remained, and others of similar advanced size that were introduced when the new construction was completed. Paul Meschiati and Associates' team decided to position the new home on the western side of the lot to give the lush parkland gardens an eastern aspect. A wide verandah treated with timber grain ceramic plank tiles, and contrasting polished travertine stone borders, wraps around the home to provide outlook to the greenery.
Indoors, the new homes backlit coffered ceilings soar to an opulent 4.5m. The Californian bungalow-style inspired ceilings cleverly conceal all signs of air conditioning and, to maintain the clean lines, invisible speakers were flushed into the Gyprock. The top of the walls adjacent to the verandah are completed with a seven-blade timber vent that is both architecturally stunning and functional for natural ventilation. The centre of the home is the feature kitchen, wine display room, scullery and chefs prep kitchen, which link seamlessly together to function as independent rooms, or as one complete culinary hub. The kitchens and bathrooms were meticulously detailed by the company's interior designer, Louise Meschiati, to reflect the luxurious ambience of a five-star resort.
Related
Administration Building Upgrade
Location