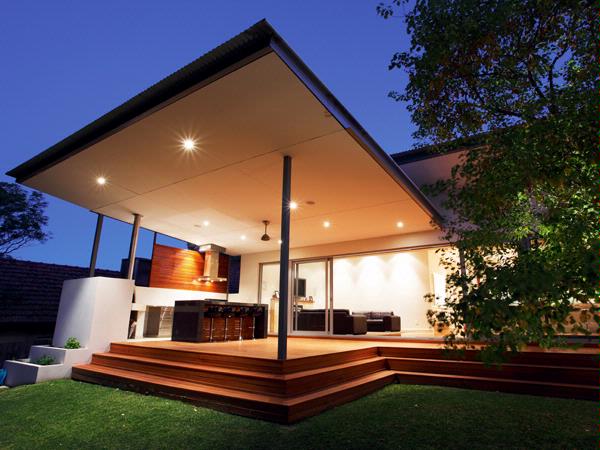 Icon Architect Designed and Built 2009
Details
Description
This simple and harmonious family home stands out on the street with distinct design elements.
The clients, a young professional couple with a small child, wanted a practical family home inspired by 1960s Australian modernism. The design needed to have clear separation of different spaces throughout the house. Each area had to be designed to have a distinct use.

The architects from ICON introduced abstractions of the 1960s by designing the rear of the house with low-pitched skillion roofs and open spacious living areas.
In order to create a clear distinction between the living spaces the hallway was designed to run directly across the short length of the site, cutting the house in half.
Modern interpretations of traditional construction elements are seen in the form of clean, hard-edge details such as custom bent gutters, commercial aluminium window framing and sandstone wall cladding – a nod to Australian modernism and a defining entry element.
The kitchen and wet areas are linear in form and clean in texture and colour. The main living space is flanked by an office, which has clear views of the living space and backyard. The rumpus room has a bi-fold door that allows the area to be connected to or closed off from the main living area.
The raked ceilings that cover the kitchen, dining and living spaces continue outside with large eaves allowing the sun to enter the house in winter and shelter it in the summer.
There is a seamless flow between the inside and outside areas with large glazed doors opening to combine the two areas. The doors allow everyday living activities to be enjoyed in the large north-facing backyard.
Related
Icon Architect Designed and Built Mosman Park Home
Icon Architect Designed and Built City Beach Home
Icon Architect Designed and Built 2008
Location