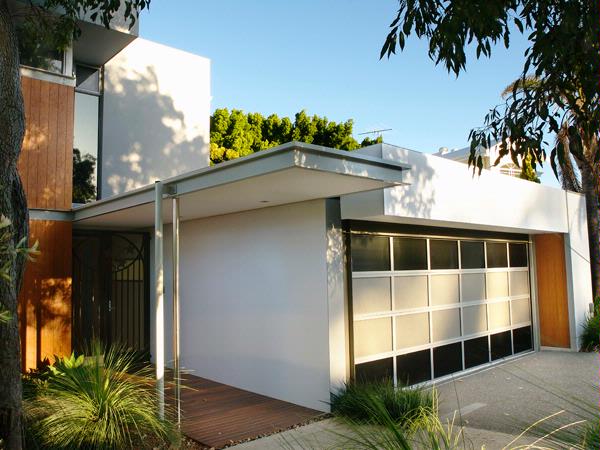 Icon Architect Designed and Built 2008
Details
Description
Clean lines mix with a palette of muted colours to create a fresh home that blends seamlessly with its environment.
The client's brief to architect Gavin Lee was extremely broad and presented no boundaries other than those dictated by the site and council building codes. The client's only requests were to ensure the home was innovative, maximised the views of the Swan River and Perth City skyline, and portrayed sophistication.
Rustic elements are juxtaposed with contemporary design in this home which captures the new and exciting spirit of Perth's innovative architecture.
The Icon Group decided to go for a less brutal urban approach and elected to retain the authenticity of the site, setting the home back from the street front within the landscape. Native trees and plants integrate with the sharp lines and angles of the front exterior to create an interesting street presence.
The home wraps itself around the pool, the scene dramatised by extensive full-height glazing.This creative and clever use of glazing allows the outside to permeate the interior.The two modules of the residence are connected by a glass wall passage that overlooks the pool.
Full-length glazing extends to the upper level, which provides the master bedroom and ensuite with incredible views over the pool, out to the city and across the river.
Inside the home, details are plentiful with many aspects of the residence opening up alternative lifestyle applications.The main lounge area can be warm, cosy and intimate during the colder months, and when the weather is more inviting the glazed doors retract to embrace the outdoors.This provide a seamless transition from inside to out.
The stone featured throughout the home was handpicked from Toodyay specifically to enhance the unusual rustic, modern blend of the home.
The kitchen also forms a critical point of the main living space. Often, kitchen spaces can be too neutral, attracting attention to the non-architectural components inherent in a functional, everyday kitchen. A well-appointed mix of materials with thoughtful detail acts to merge all elements of the kitchen into an attractive, user-friendly space that sits confidently within the open living area as a whole.
Related
Icon Architect Designed and Built Mosman Park Home
Icon Architect Designed and Built City Beach Home
Icon Architect Designed and Built 2009
Location