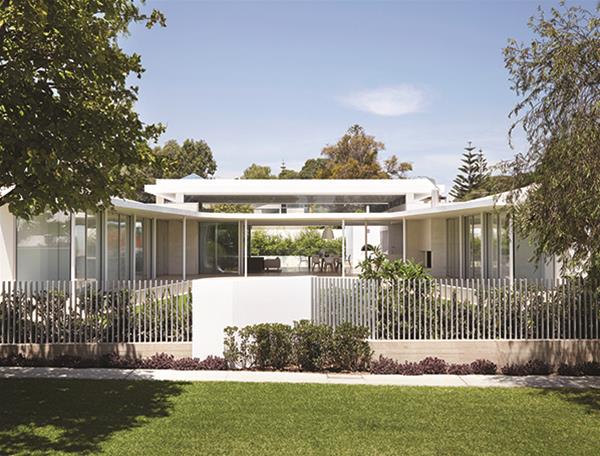 An unconventional layout proves a winning decision for Wright Feldhusen Architects.
Details
Home Design Style:Modern
Home Design Type:Courtyard,Custom Built Home,New Home,Single Storey
Description
Homes in the traditional sense have a clearly defined entrance, and are linear in their program. Wright Feldhusen Architects had a differing design concept for this Cottesloe site, however.
They wanted to create an intriguing vision for the double block, and sought to achieve a single-level dual courtyard to provide the growing family of four with visual connection to all areas of their home.
The project explores a courtyard model to create a private and secure environment. The plan is an 'H' shape that enables a north courtyard and garden with a south pool courtyard. It is intuitively divided into three distinct pavilions: a parents' wing, a living area and a children's wing.
Entry to the house is via a spatially compressed lobby to the right, which is characterised by an off form concrete canopy and curved wall that feeds into the main living area.
The concrete roof cantilevers outside to form a covered external entry. Compressing the entry experience reinforces the surprise of the great living room that is saturated in natural sunlight, thanks to a four-metre ceiling with overhead windows, and large sliding glass doors.
The clerestory windows open to enable cross-ventilation, while the doors open up entirely to allow a pavilion to be formed
between the two external living areas. These encompass a grassed terraced front, and minimalist alfresco and pool to the rear.
A feature fence extends the width of the property's frontage, which contributes to the edgy but minimalist design of the home.
Related
Wright Feldhusen Architects Yallingup Home
Wright Feldhusen Architects North Fremantle Home
Wright Feldhusen Architects Injidup Home
Location