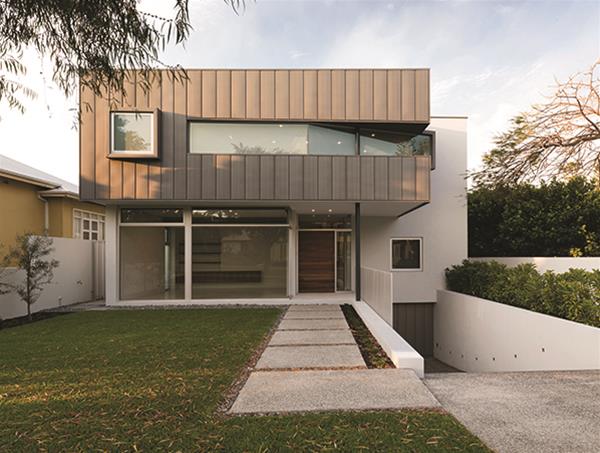 Minimalism gains a sophisticated edge in this zinc-clad abode, designed and built by Richard Szklarz Architects to push the boundaries of the distinct architectural style.
Details
Home Design Type:Custom Built Home,Design and Construction Services,Modern,Multi-Storey,New Home
Description
This home may be located on a quiet cul-desac, but its dramatic frontage and eye-catching interiors mean it's anything but shy.
Richard Szklarz Architects followed a contemporary approach in the design and construction of the home with a 'less is more'
philosophy, allowing the home to adopt an identity of its own, with edgy elements.
From the street, zinc cladding envelops the upper level, with an angular window protruding for variance to the form, and recessed sills for visual depth. A clear anodized balustrade separates the driveway ramp to the entrance path,
continuing round to the rear as a pool fence.
Working on a 708sqm site with a rear north aspect, Richard Szklarz Architects was fortunate to have space to construct a large outdoor area for the young family of five, with a pavilion on the other side of the pool to accommodate a guest ensuite.Large glass doors in the main residence promote the blurred connection between the inside, the outside and the pavilion, and
serve to bathe the kitchen and meals area in natural sunlight.
This space forms the pivotal hub and transition zone between the functional changes within the house, dividing formal from informal, and private from public. The use of modest tapware, concealed appliances and a sleek induction cooktop echoes
the clean lines and minimalist forms reflected in other areas of the building.
Below this is a basement level, offering additional space for family storage, with a garage, gym and cellar. On the second storey, the master bedroom has been deliberately positioned away from the children's rooms and activity area to provide privacy as the family matures.
Related
Richard Szklarz Architects Mosman Park Home
Richard Szklarz Architects Cottesloe Home
Location